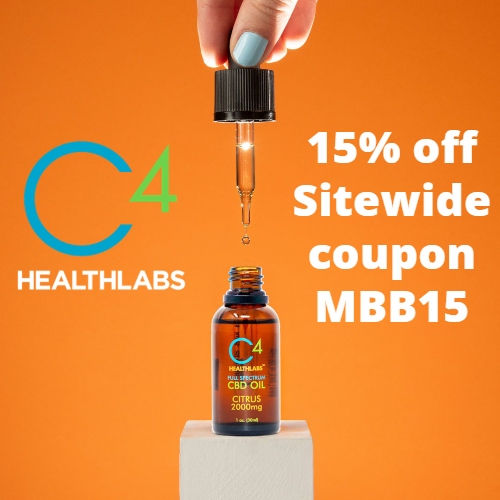 C4 Healthlabs is committed to providing pure, healthy, and ethically produced CBD products. Their top quality full-spectrum, THC free CBD oils, and full spectrum CBD gummies are formulated for the best therapeutic effect.
Their CBD oils are formulated with the highest quality ingredients. They are non-GMO, BPA free, cruelty free, and third-party lab tested for safety and potency. The full spectrum oils are organically grown and available in 2000mg, 1000mg, and 500mg. The 1000mg THC free oil is blended with organic MCT oil to increase cannabinoid absorption and is a great choice for civil servants. Both are available in natural and citrus flavors. The citrus flavored oils taste great and are made with therapeutic-grade citrus essential oil.
Their full spectrum CBD gummies are formulated to promote balance and wellness and deliver the full benefits of cannabidiol with the convenience of an easily consumed gummy. They come in a bright fruit flavor and are only 10 calories per serving. They are dairy free, fat free, gluten free, MSG free, and nut free.
Other products in the C4 Healthlabs product line include CBD chocolate bars, CBD muscle gel, CBD lotion, CBD lip balm, CBD-free Liposomal Vitamin C with Bioperine and Vitamin B12, and CBD-free Liposomal Vitamin B-Complex with Methyl Folate, Biotin, and L-Carnitine supplements.
Get 15% off Sitewide at C4 Healthlabs using coupon MBB15. Shipping is Free on orders of $75 or more. The 500mg and 1000mg CBD oils come with a 30-day 100% money back guarantee.
More about C4 Healthlabs –
With more than 25 years of clinical experience and a master's degree in herbology and oriental medicine, their founder began researching cannabidiol as a therapeutic agent for his son with Autism. An intensive study showed that CBD oil quality was truly dependent upon the health and handling of the plant, from seed to processing. When he found few products that met his requirements, and minimal resources to assist him with decision making, he realized a need that was not being met for many: CBD Oil farmed and formulated specifically for therapeutic effect. That's when C4 Healthlabs was founded.
They provide reliable resources to those searching for a path to positive health. Through education, customer support and pure, organically farmed, and processed CBD oils, they have become a company dedicated to creating products that they trust enough to give to their own families and yours.
1