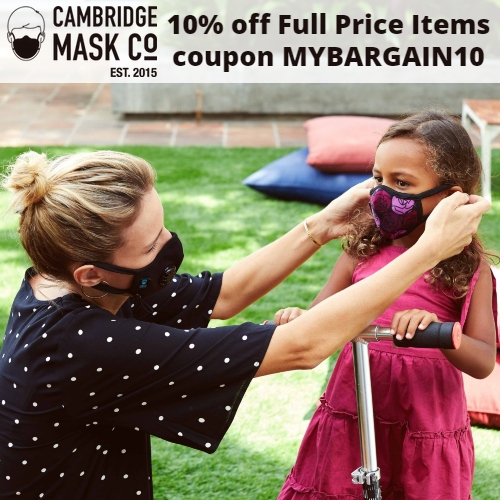 Cambridge Mask Co. offers stylish masks for the whole family that protect from pollution & viruses. Their masks are ideal for cyclists, people in high risk groups for respiratory disease, and anyone living in an urban environment with high air pollution levels.
Cambridge Masks are actually respirators that use military grade filtration technology to filter out nearly 100% of particulate pollution & gases, as well as bacteria & viruses. Their inner filtration layer is made from a 100% pure activated carbon cloth, which was originally invented by the UK Ministry of Defense for use in chemical, biological and nuclear warfare protection.
Masks last 3-6 months with daily use (200-300 hours). They feature adjustable ear loops with toggles for a snug fit and are available with or without a ventilation valve (non-valve is not recommended for high-intensity activities such as running, cycling, etc.).
All masks come with a Free nose foam and head strap accessory to help ensure maximum filtration and stop glasses from fogging up. They come in multiple sizes, colors, and patterns, so there's something to suit every taste.
Get 10% off all full price items at Cambridge Mask using coupon MYBARGAIN10. Shipping is $4.97 or Free on orders of $50 or more.
More about Cambridge Mask Co. –
Cambridge Mask Co. was created when founder & CEO, Christopher Dobbing, saw the horrible effects air pollution had on young children while living in Beijing. These children were growing up thinking the air should be colored in grey in pictures and coughing all day was normal.
No one, especially children, should have to sacrifice their health just by breathing – So Christopher decided to do something about it! He started Cambridge Mask Co. and developed a family-friendly, science-led mask that can help protect children and adults from air pollution.
To date, Cambridge Mask Co. has helped over 1 million people in over 100 countries get the protective masks they need to stay safe from pathogens, urban air pollution, wildfire smoke, and traffic fumes.
7