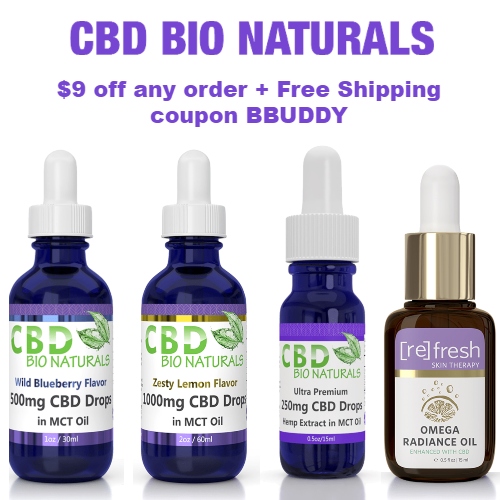 CBD BioNaturals focuses on supporting wellness through clean living and providing natural solutions to the stressors of modern life. Their #1 goal is to help their customers lead happier, healthier, more natural lives.
CBD BioNaturals products are made with powerful blends of herbs, vitamins, and minerals that are each designed for a specific purpose. They offer CBD mixed with MCT Oil in many different strengths and flavors. Their Omega Radiance Oil with CBD helps with dry skin, eczema, red complexion, and inflammation with a powerful skin-soothing blend of antioxidants, vitamins, and omegas.
Their premium CBD health supplements are made in the USA and meet or exceed the strict manufacturing standards set by the FDA. They are made without any extra fillers, binders, or junk. They use only the purest and most potent natural ingredients.
Get $9 off any order + Free Shipping at CBD BioNaturals using coupon BBUDDY. All products come with a 30-day money-back guarantee.
6