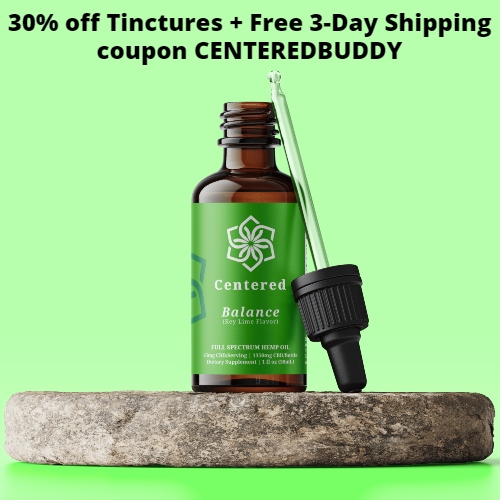 Centered offers premium CBD oil tinctures that are made entirely of USDA certified organic ingredients. Their oils are formulated to help maintain a healthy lifestyle by supporting homeostasis (balance) throughout the body. Centered CBD oils help to find balance in your sleep patterns, support post-workout recovery, calm anxiety, relieve aches & pains, and maintain focus, among many other benefits.
Centered offers four delicious formulas, with full spectrum (less than 0.3% THC) and broad spectrum (0.0% THC) options –
Tranquil (Mint) – Transform anxious thoughts into empowering moments with hints of refreshing mint. Tranquil is made with only three ingredients, making this formula simple, efficacious, and clean, with no artificial flavors or colors. Enjoy this broad-spectrum CBD tincture by itself or add it to your favorite tea or smoothie for a premium, THC-free CBD experience.
Balance (Key Lime) – Depression can leave you feeling isolated, trapped in your own body, sad, and uninterested in things that you once enjoyed. If you need help balancing your life, this is for you. Balance is crafted with four premium ingredients and no artificial colors or flavors. This full spectrum formula contains less than 0.3% THC and provides a variety of phytonutrients believed to enhance CBD's efficacy. It can be taken day or night to promote calm and overall wellness.
Calm (Lemon) – Free yourself from unwanted disturbances and quiet the thought storms. Calm helps you stay in control so you can ease through your day. This THC-free lemon flavored CBD oil is made with only three ingredients and can be enjoyed by itself or added to your favorite beverage.
Relax (Unflavored) – Whatever the day has in store for you or has already challenged you with, you can take comfort knowing peace and relaxation are just a few drops away. Relax is made with only two premium ingredients: organic olive oil and organic broad spectrum hemp extract. Take this formula alone or add it to your favorite recipes to promote wellness and balance throughout your day.
Get 30% off Tinctures Centered using coupon CENTEREDBUDDY. All orders come with Free 3-day shipping. Coupon will work on one time orders and will also apply to the first shipment on a subscription order (which is already 30% off!).
All CBD oil tinctures come with a money back guarantee.
Centered never compromises on quality, which is why every batch of CBD tinctures are rigorously tested by a third-party lab to ensure safety, transparency, and efficacy.
3