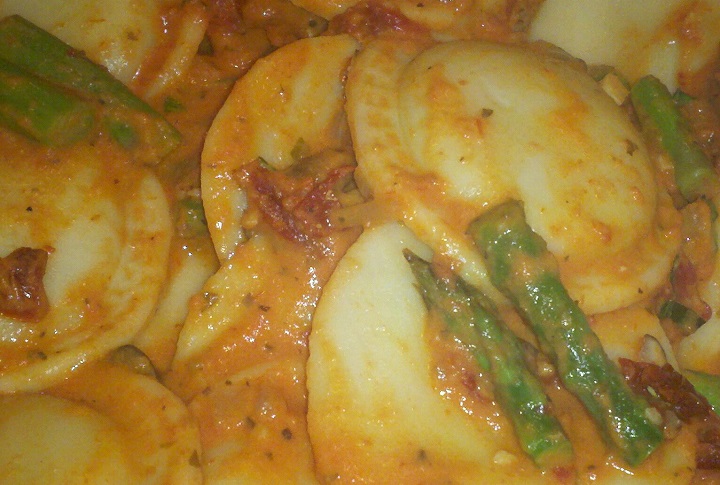 I enjoy trying to recreate restaurant food that I love. My most recent attempt at a copycat recipe was the Ravioli Forza Italia from Rustico Ristorante Pizzeria in Murrieta, CA. I've never had a dish I didn't like at Rustico, however, I always seem to gravitate toward their cheese ravioli. The combination of creamy tomato sauce, tender-crisp asparagus, and bold sun-dried tomatoes make this ravioli something you'll want to add to your regular dinner line-up!
With teenagers in the house, I usually make a double batch of everything. I also like having leftovers for next day lunch. Cut the pasta in half if you are feeding 4 or less. You'll have a little extra sauce and veggies, but that's a good problem!
Ingredients
2 Bags (24 oz each) of Frozen Cheese Ravioli
1 lb of Asparagus (ends trimmed and discarded, middle and tops cut into bite size pieces)
1 Pkg of Baby Bella Mushrooms, roughly diced
2 Garlic Cloves, diced
1/4 cup Red Onion, diced
1 8.5 oz Jar Sun Dried Tomatoes, julienned
2 TBS Olive Oil
2 TBS Butter
1 24 oz Jar of Classico Tomato and Basil Spaghetti Sauce
1/2 Cup Heavy Whipping Cream
5 Fresh Basil Leaves
Shaved Parmesan
Directions
In a large saucepan, combine spaghetti sauce and heavy whipping cream. Cover and simmer for 15 minutes, stirring occasionally, while you are preparing the rest of the meal.
Saute asparagus in olive oil and butter over medium heat until slightly tender, about 8 minutes. Add mushrooms, onion, and garlic and continue cooking for approximately 5 minutes. Drain and rinse sun dried tomatoes, dice basil leaves and add both to vegetables. Remove from heat.
Cook ravioli according to directions on package. Drain and rinse. Pour into a 9″x13″ baking dish, cover with sauce and stir in the sauteed veggies. Bake at 350 for 20 minutes and top with Shaved Parmesan Cheese, if desired. Serve with bread and salad.
Sign up for my email newsletter to get recipes like this delivered to your inbox!
1