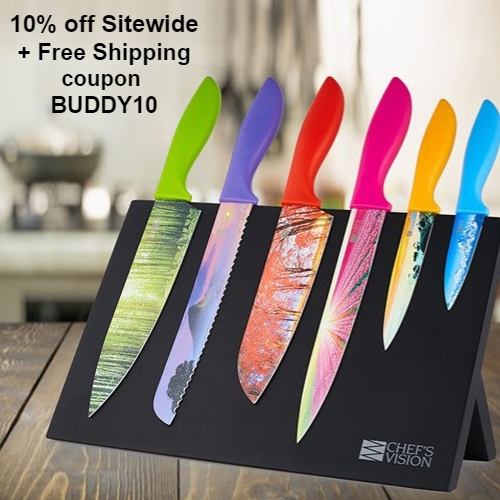 The kitchen is the heart and soul of a home, where your family and friends gather to share in preparing and enjoying home-cooked meals. Chef's Vision Knives are the perfect addition to any kitchen and are as beautiful as the food they help you prepare.
Chef's Vision Knives are made of high quality, durable stainless steel, honed to razor sharpness for cutting ease. What really sets them apart is they each have a beautiful picture printed on them. The pictures also serve as a highly durable non-stick coating, which makes cutting, slicing and paring far easier, so even the thinnest cucumber slice just slides right off the blade!
They have three great themes to choose from – Cosmos, Wildlife, and Landscape.
To complete your set, they also offer knife sharpeners, blade covers, cutting mats, and magnetic knife holders.
Get 10% off Sitewide + Free Shipping at Chef's Vision using coupon BUDDY10. All products come with a 100% satisfaction guarantee!
6