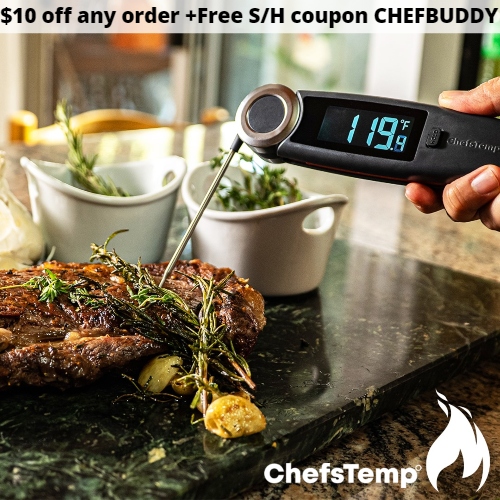 ChefsTemp offers a range of state-of-the-art meat thermometers that make roasting, grilling, and baking all your favorite meats a breeze.
Their award winning Finaltouch X10 Instant Read Meat Thermometer is rated #1 by chefs around the world. Whether you are a culinary expert or an at-home chef, it has cutting edge features that help you make a perfect meal every time, including:
Super Fast and Accurate Readings – Innovative thermocouple technology gives pinpoint temperature readings as soon as you put in the probe. It has a rating of ±0.7F accuracy and it gives you a reading in just 1-3 seconds!
Auto-rotating Display & 270 Degrees Rotation Probe – Built-in motion sensors can detect if the device is upside down and rotate the display accordingly. Paired with the rotation probe, it's perfect for awkward angles and left-handed cooks.
Motion-activated Wake-up Mode – Simply pick up your Finaltouch X10 and it turns on instantly. Set it down and it will go into battery-saving sleep mode.
Magnetic Backing – This convenient feature allows you to stick it to any metal surface so it doesn't get lost and you have it handy whenever you need it.
IP67 Waterproof Rating – It can withstand up to 1 meter of water.
Are you a grill master? Check out their Quad XPro Long-Range Remote BBQ Alarm Thermometer. It's equipped with wireless technology and allows you to track up to 3 meats at once!
Get $10 off any order at ChefsTemp using coupon CHEFBUDDY. Shipping is currently Free on all orders – No minimum purchase required!
3