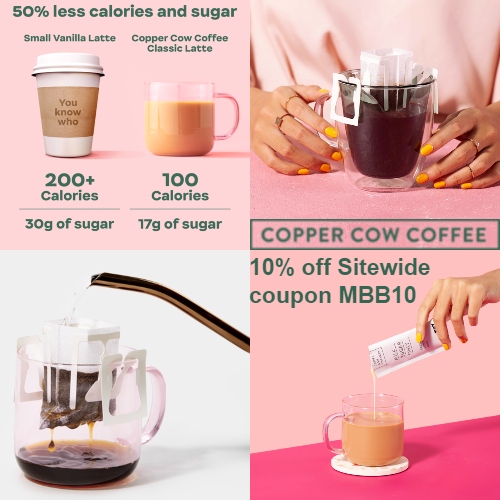 Copper Cow Coffee blends the uniquely rich flavors from the Central Highlands of Vietnam, with the sweetness of creamy California milk. Their coffee and lattes come in awesome pre-packed pour over coffee filters that make it easy for you to have a great cup of coffee wherever you are. You just set the filter on top of your cup, pour hot water over it and in 90 seconds you've got a freshly brewed, delicious cup of coffee or latte. They're great for when you're on the go or at work and they would be perfect for vacations and camping.
Copper Cow's barista quality coffee is sustainably sourced, organic, and all natural with no chemicals. They use biodegradable filters and their creamers require no refrigeration. They have multiple flavors to choose from. The Classic is a sweet primer to the wide world of Vietnamese coffee and it makes a great iced coffee or cold brew. They also offer tea, coconut milk creamer and an assortment of delicious lattes including churro flavored, ginger, lavender, rosemary, rose and their Golden Latte that is made with turmeric and known to clear up skin, boost immunity, and reduce inflammation.
Get 10% off Sitewide at Copper Cow Coffee using coupon MBB10. Shipping is Free on orders over $30. Coupon is not valid on subscription orders.
3