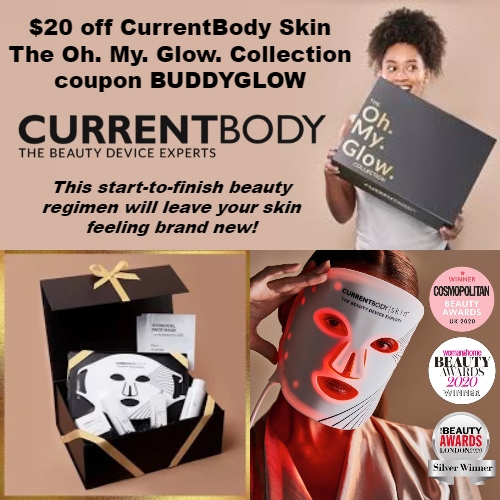 CurrentBody is the premier online destination for home use health and beauty technology. They offer the largest selection of safe, clinically proven electronic health and beauty devices in the world, supported by a team with exceptional product knowledge and excellent customer service.
With modern technology, manufacturers are now able to create devices that mimic those used by professionals in salons, spas, and clinics. There are tons of new products out there and it's hard to know which ones really work. CurrentBody brings together all the highest quality, most effective devices from the best brands, so you can be confident you are getting a top-quality product that works!
If you're looking for a beauty regimen that will leave your skin feeling brand new, you have to check out CurrentBody's Skin The Oh. My. Glow. Collection. Complete with the clinically proven CurrentBody Skin LED Light Therapy Mask and expertly formulated range of skincare, this set has everything you need to rejuvenate your complexion from the comfort of your own home. Their skincare products are designed to improve skin tone, brighten your complexion, and give your skin a nourished, healthy glow. These products can be used alone or in your daily skincare routine and are suitable for all skin types.
The collection includes:
• LED Light Therapy Mask (RRP $399)
• Daily AHA Tonic 250ml (RRP $15)
• Clarifying Clay Mask 100ml (RRP $20)
• Daily Foaming Cleanser 110ml (RRP $15)
• Hyaluronic Acid Serum 45ml (RRP $20)
• Hydrogel Face Mask x3 (RRP $18)
All products have a combined retail value of $487, but you can get it for $350 + Free shipping using coupon BUDDYGLOW.
Get $20 off CurrentBody Skin The Oh. My. Glow. Collection at CurrentBody with coupon BUDDYGLOW. CurrentBody Skin The Oh. My. Glow. Collection comes with a 2-year warranty. Standard shipping is $5 or Free on $100+ orders. Orders of $150 or more come with Free express shipping.
2