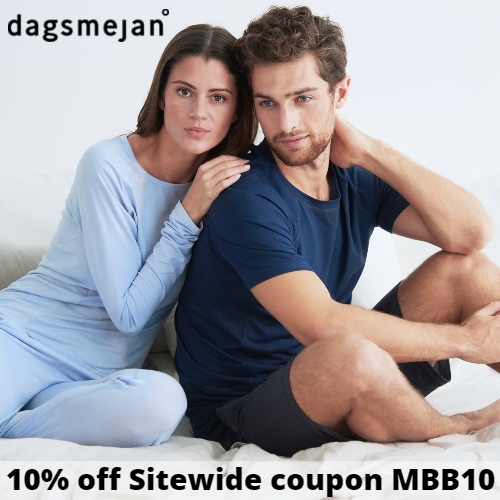 Temperature fluctuations during the night interrupt your sleep phases and significantly reduce your quality of sleep. Dagsmejan offers premium sleepwear that is scientifically proven to help you maintain the optimum body temperature for sleep so you can get a good night's sleep and wake up feeling refreshed.
Developed by sleep experts, Dagsmejan sleepwear combines the finest natural fibers with the latest textile technology in feather-light, breathable and super soft fabric to give you sleepwear that supports your individual physiological sleep needs. Their pajamas stay in the ideal climatic comfort so can sleep deeper and longer.
Every person's temperature needs are different, which is why Dagsmejan offers 4 collections of sleepwear. You can choose the one that suits your needs –
Too hot to sleep? The NATTCOOL™ collection is specially designed to keep you cool all night. The fabric is softer than silk, cooler than linen, and better at moisture management than cotton. It's 8x more breathable than cotton and dries in 1/3 of the time.
Cold at night? The NATTWARM™ collection provides lightweight warmth without overheating you. They are 50% lighter than most cold weather pajamas and they are 4x more breathable than cotton and 2x softer.
Hot and cold at night? The NATTWELL™ collection offers balance with super lightweight, breathable, and exceptionally soft fabric that helps your body keep the ideal sleeping temperature and beat chills & night sweats. They are 6x more breathable than cotton and 4x more moisture wicking.
Want to optimize your muscle recovery? The NATTRECOVER™ collection is made with a revolutionary fabric that features responsive energizing minerals that recycle excess body heat and converts it into natural far infrared energy, improving muscle oxygenation to enhance muscle regeneration.
Dagsmejan also offers premium maternity, nursing, and baby sleepwear. These collections are exceptionally breathable, temperature regulating, super soft & comfortable, and they're made with natural, sustainable, and safe materials.
Get 10% off Sitewide at Dagsmejan using coupon MBB10. Shipping is Free on orders of $100 or more.
Dagsmejan is so confident in the comfort of their sleepwear, they offer a 14-day sleep comfort guarantee. You can sleep in your new pajamas for up to 2 weeks and if you don't love them, return them for a full refund – Dagsmejan will even pay for the return shipping!
2