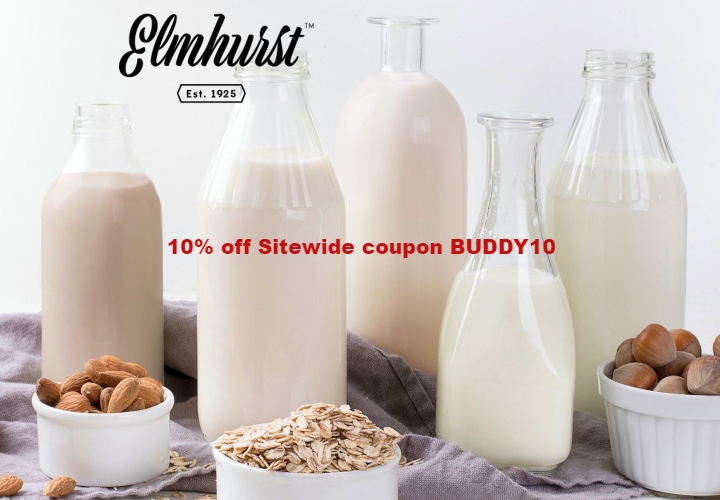 Moooo-ve over dairy, there's a new milk in town! Whether you're vegan or not, plant-based creamers and milks are all the rage. There's no surprise why; shelf stability, delicious flavors and simple, healthy ingredients make tummies happy!
Elmhurst is one of the companies leading the alternative milk charge. Started as a dairy company in 1925, they hand-bottled and delivered milk to the Queens neighborhood of New York City until 2017, when they made the radical shift to creating innovative plant milks.
The change came with a focus to help create a brighter, more sustainable environmental future for all, while providing a healthy and tasty plant-based alternative.
Elmhurst is dedicated to creating high standard beverages. All of their products contain as few as two to no more than six total ingredients. This is reassuring for those looking to stay away from highly processed foods. They use a unique state of the art HyrdoRelease method when creating their nut and grain milks, which maintains the delicious flavors without losing the signature creamy texture.
The result – All the richness, all the nutrition, all the YUM! Plus, nothing beats that 6-month shelf life. Stock up your pantry and you'll never have to worry about an unexpected run to the market for more coffee creamer.
Alongside the traditional milks, Elmhurst's lineup also features some exciting flavor varieties ranging from matcha tea latte, blueberry oat milk, golden milk, and more.
If a little creamer for your coffee is all you're looking for, their barista series recipe nails the formula, allowing you to get that delicious, coveted steamed froth. A splendid morning treat that'll take you back to enjoying your favorite cup at the local coffee shop.
Now let me ask you this: When was the last time you treated yourself to a delicious chocolate milk? I'm guessing it has been a while, because we're all adults here.
My not-so-guilty pleasure is their decadent chocolate oat milk. With the perfect amount of sweetness from cane sugar and Dutch cocoa, this drink is like heaven in a glass. It also provides 20g of whole grains (woohoo fiber!) and contains a fraction of the sugar found in traditional chocolate milk, so I feel like I'm doing my body good when I "indulge". I've got a few in my pantry just waiting for when a craving strikes.
All of their products are gluten-free, vegan, and kosher, so you're bound to find something that will satisfy the unique tastes and needs of your family.
Though the products Elmhurst has offered have evolved since 1925, their mission has stayed the same. Providing top quality beverages for you and your family and delivering them right to your front door. Order today and get 10% off sitewide using coupon BUDDY10.
Sign up for my email newsletter to get tips like this delivered to your inbox!
8