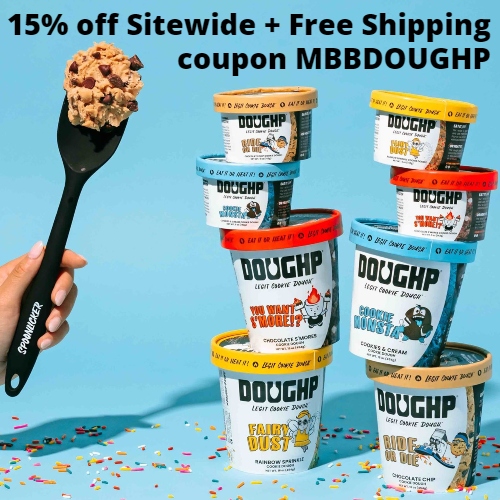 Doughp makes delicious cookie dough that you can enjoy raw or baked! Their cookie dough is made with high quality, natural ingredients, it contains no added preservatives, and best of all, it's egg-free, which makes it safe to be eaten raw.
Doughp comes in all kinds of great flavors, like chocolate chip, cookies & cream, chocolate s'mores, scickerdoodle, pumpkin spice, and more. They even have a vegan option – Avocadough Brownie. Doughp cookie dough stays good for 2 weeks at room temperature, 45 days in the fridge, and 1 year in the freezer, so don't be afraid to stock up!
Get 15% off Sitewide at Doughp using coupon MBBDOUGHP. All orders ship Free – No minimum purchase required! Coupon is not valid on subscription orders.
Be sure to check out their Celebration Shop for great gift boxes, including corporate gifts, party boxes, and sober birthday boxes that celebrate sobriety.
All orders come with a happiness guarantee. If you're unhappy with your order for any reason, Doughp will make it right with either a refund or a new box.
More ways to save – You can save 25% when you build your own 4-pack and 45% when you upgrade to 16oz pints on the Bestsellers 4-pack.
Doughp is committed to reducing the stigmas around mental health & addiction recovery. Their cookie dough was created to give you a feeling of nostalgia and create moments of self-love. A portion of every purchase is donated to She Recovers® Foundation to support women in recovery.
Fun Fact: Doughp has been featured on Shark Tank and founder, Kelsey Moreira, was named Forbes 30 under 30 & Vegas 40 under 40!
1