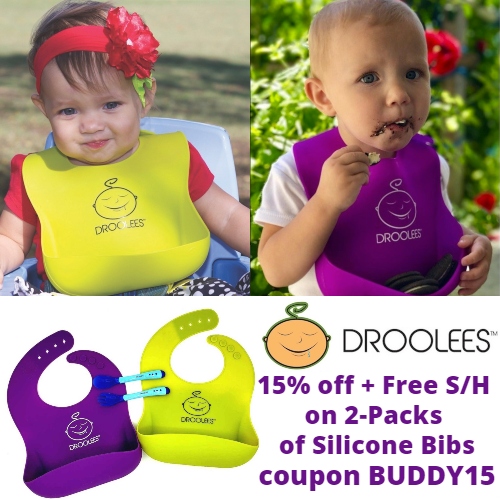 Droolees Coupon
Today: 15% off + Free Shipping on 2-Packs of Silicone Bibs
Coupon: BUDDY15
Expires: 9/15/21
SHOP NOW
Are you tired of your kiddo's clothes eating more than your kiddo? How about having to change their clothes after every meal? Many bibs on the market are made from fabric or some other inferior material that doesn't stop food or drinks from soaking through. And if they have pockets, they aren't open enough to catch anything. Droolees Silicone Bibs change all that!
Droolees Silicone Bibs are designed with little ones in mind. Each bib is made from eco-friendly, food grade, BPA-free silicone that is waterproof, easy to wipe up, and has a large deep pocket that stays open to catch food. Added bonus – they're super easy to travel with! Just roll them up and pop them in a bag!
Droolees Silicone Bibs not only save you time cleaning up, they'll save you money, too, with less loads of laundry and less ruined clothing!
Get 15% off on 2-Packs of Silicone Bibs at Droolees using coupon BUDDY15. These Bib 2-Packs include a Free fork and spoon and they ship Free! All orders come with a 100% no-risk 30-day money back guarantee.
See something else you want? You can get 10% off Sitewide at Droolees using coupon BUDDY10.
4