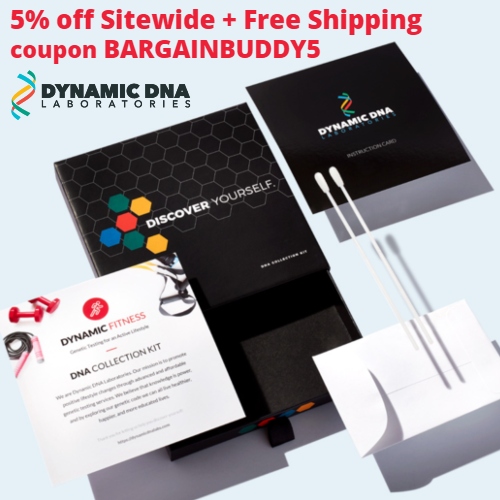 Dynamic DNA Labs is a state-of-the-art genetics lab that specializes in advanced DNA testing, including fitness and nutrition DNA tests, ancestry DNA tests, personalized medicine reporting, paternity & sibling tests, and more. Their mission is to promote positive change in people's lives through advanced and affordable genetic testing services. Knowledge is power. Whether you are looking to take a personalized approach on fitness or trace your family's past, Dynamic DNA Labs has a test for you.
Testing is super easy! Dynamic DNA Labs will send you everything you need to take a quick and painless sample from the comfort of your own home. You just mail it back in the same pre-paid package and they'll do the rest.
Some of their best-selling tests include –
Nutrition DNA Test – If you want to improve your nutrition and your eating habits, the nutrition DNA test can be the guiding light to your dietary needs. The genes in our DNA help control virtually every aspect of our nutrition, from how we feel when we eat, to how we process and metabolize the nutrients and vitamins we consume. You will discover 43 genetic traits related to your diet, eating behaviors, nutritional needs and more.
Skin DNA Test – Every person has various reactions to environments, foods and other external factors. While many are familiar with DNA testing for food allergies or ancestry, there are also many health benefits to be gained by testing your skin and being proactive with your skin health, including anti-aging! Their Skin DNA Test includes 25 genetic traits that will help you develop and maintain a healthier skincare routine. You'll learn about your genetic tendencies & vulnerabilities, from complexion to nutritional deficiencies, and receive personalized treatment recommendations based on your unique genetic profile.
Fitness DNA Test – This test is engineered to provide unfiltered access to how your body responds to physical exercise. You will identify 31 genetic traits that are essential to fitness including strength, recovery, and performance so you can create the ideal fitness routine to maximize weight loss and discover your competitive edge.
Ancestry – Uncover your past with their ancestry test that analyzes three different types of DNA revealing your maternal, paternal, and autosomal lineage. You can take a comprehensive look into your heritage and discover the migration patterns of your ancestors.
Comprehensive PGx Test – Pharmacogenomics (PGx) analyzes your DNA to predict how you will respond to 150+ different drugs, including those used in the treatment of chronic or acute pain, cardiovascular health, mental health, infectious disease, and gastrointestinal treatment. This test includes all three PGx panels (pain management, mental health & cardiovascular health) plus additional medical insights for other drug classes that include urological agents, alpha-blockers, and diabetes treatments, delivering a personalized medicine report unique to you.
Get 5% off Sitewide at Dynamic DNA Labs using coupon BARGAINBUDDY5. All tests ship Free both ways!
All testing is conducted in-house at their CAP-accredited and CLIA-certified laboratory that houses the latest in the DNA and genetic testing technology. They are held to the highest of molecular testing lab standards and ensure your DNA and data is kept safe and secure at all times.
2