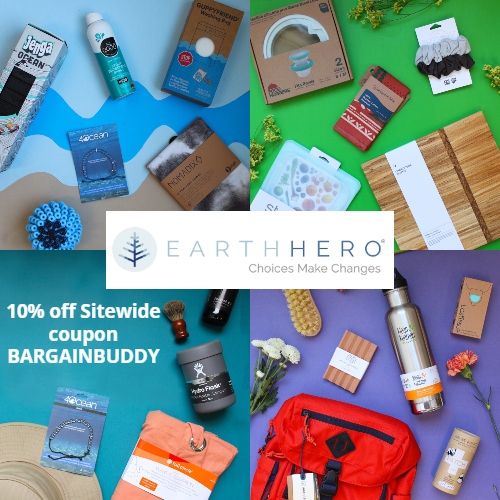 The way we shop is easy and convenient. Do you need or want something? Just head to the store or hop online, and it's yours. But here's the problem: Too much of the stuff we buy today is made without any thought about tomorrow. Our landfills are growing while our resources are disappearing – it's just not sustainable. The future of our planet depends on the actions we take today, but the truth is, it's just not that easy to make every shopping decision a mindful one.
What if there was a better way to shop, with the ease and convenience you're used to, but everything's made in a way that treats our planet kindly? Well, that's where EarthHero comes in! They are a one-stop shop for everything sustainable!
As an eco-friendly online marketplace, EarthHero has done the work so you don't have to. Here, you can pick from products that are sourced, manufactured, and shipped in a way that protects our planet's future. Each brand they've partnered with has been chosen because they're taking the right steps and helping to create a more sustainable future.
You can shop thousands of eco-friendly products from trusted brands, knowing that you're doing your part for the environment, while not sacrificing the convenience of having everything in one place like you've come to expect when shopping online. Whether you're shopping for home & garden products, clothing & accessories, pet supplies, health & beauty products, goodies for babies & kids, sports & outdoor gear, audio & tech, cleaning supplies, or just about anything you else you might need, EarthHero is sure to have a product for you!
Get 10% off Sitewide at EarthHero using coupon BARGAINBUDDY. Shipping is Free on orders of $50 or more. All orders come with 30-day Free returns on unused products. Coupon is not valid on sale items, TerraCycle boxes, Zeal Optics, or Naturepedic products.
Be sure to sign up for their rewards program before you shop!
5