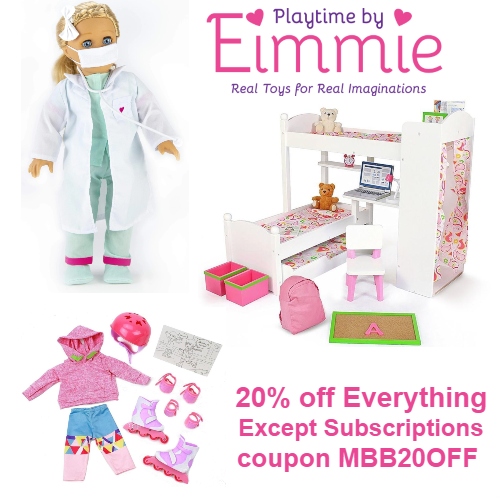 A girl's bond with her doll will forever hold a special place in her heart and will fill with it with fond memories of growing up. These moments are critical in every girl's upbringing, and that's why Playtime by Eimmie was started. They sell 18 inch dolls and all the accessories to go with them, including furniture, clothing, play sets and pets for the dolls. Eimmie is an award-winning creator of doll furniture, doll accessories, and more! Each doll piece is crafted with high-quality materials to withstand playtime adventures.
Eimmie's mission is to create toys that expand imagination, encourage real play and assist in the development of essential life skills. Creating adventures with Eimmie and her friends empowers children to develop their imagination and curiosity. This type of play allows children to use their creativity while developing physical, cognitive, and emotional strength. When playing with others, it helps them develop social skills, enhance problem-solving abilities, and build friendships.
Get 20% off everything except subscriptions at Eimmie using coupon MBB20OFF. Shipping is Free on orders over $30.
4