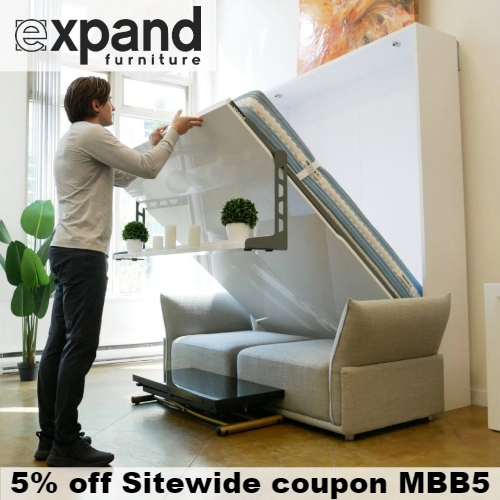 With apartment living and homes with less square footage being the new trend, your furniture has to follow suit. Expand Furniture creates convertible & compact furniture designed for modern living & smaller spaces so you don't have to choose between saving space and functionality.
Instead of a hulking piece of furniture that wastes precious space when you're not using it, Expand Furniture's stylish & innovative double duty furniture is compact enough to expand your living space and easily transforms into a bigger version when you need it.
Their line of transforming furniture includes coffee tables & console tables that transform into dining tables, extendable dining tables that go from 2 to 12 seats, extendable conference tables for the office, folding chairs, space saving sectional sofas, and a range of super cool hidden beds, including murphy beds, convertible table & desk beds, folding bunk beds, storage beds, and sofa beds that are actually comfortable!
Get 5% off Sitewide at Expand Furniture using coupon MBB5. Be sure to check out their Black Friday deals. Some items are 50% off before coupon!
Most furniture arrives pre-assembled and all furniture comes with a satisfaction guarantee & a 3-year warranty.
1