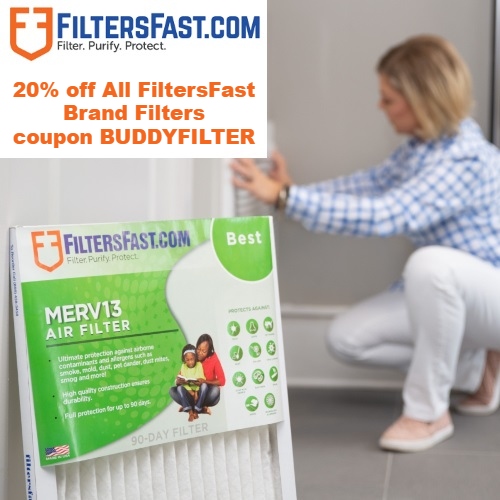 Air and water filtration are extremely important aspects of your home's environment. However, name-brand replacement filters are typically expensive and it can be tempting to save money by letting them go a little longer than you probably should. Fortunately, there is a better solution!
North Carolina based FiltersFast is a leading manufacturer and retailer of top-quality filters for your home. Their premium AC & furnace air filters, fridge water filters, and whole house water filters offer affordability without sacrificing quality.
There are plenty of filter manufacturers out there. Why buy FiltersFast brand?
Family-owned FiltersFast offers a massive variety of compatible filters that are made with high-quality materials AND they are backed by a 365-day return policy.
FiltersFast brand HVAC air filters effectively reduce pollen, pet dander, dust & dust mites, mold spores, and other allergens from indoor air. Removing these airborne particles helps improve allergies and minimizes sinus irritation that can cause watery eyes, itchy throat, coughing, and sneezing.
In addition to the health benefits, routinely changing your HVAC filters also extends the life of your heating and cooling system by helping it work more efficiently.
FiltersFast offers 1″, 2″, 4″, and 5″ air filters in all the standard sizes to fit any HVAC system. They are available in MERV ratings 8, 11, and 13, so you can choose the level that's right for you.
MERV = Minimum Efficiency Reporting Value. A higher MERV rating means cleaner air but reduced air flow. Before you choose a MERV rating, check with your HVAC manufacturer to see what your system is designed to handle. Picking the wrong filter can impact air flow and reduce equipment life.
FiltersFast brand refrigerator filters deliver excellent water filtration and are NSF certified to ensure you are drinking the healthiest tasting water possible. You'll find fridge filters for all the major brands, including LG, Samsung, GE, Whirlpool, Bosch, Maytag, Amana, Frigidaire, and more.
FiltersFast brand whole house water filters offer the same performance as the name brands for a lot less money. You'll find compatible filters for Pentek, Hydronix, MATRIKX, GE, and other popular brands.
Get 20% off FiltersFast Brand Air Filters using coupon BUDDYFILTER. Shipping is Free on orders of $99 or more.
18