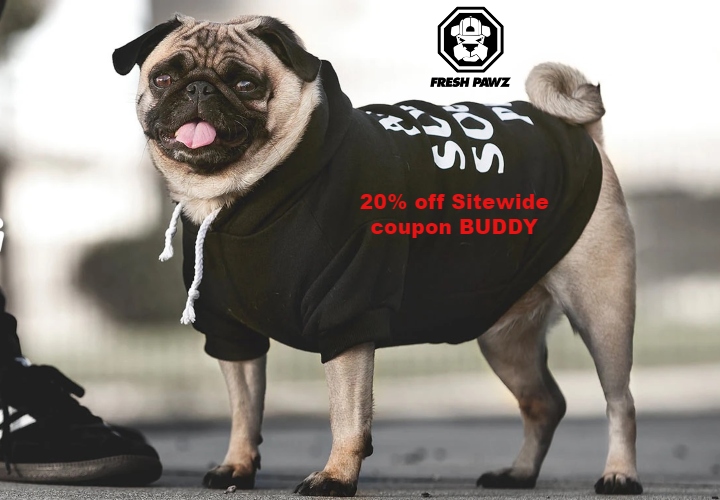 I think we can all agree there are two types of people; those that dress their dogs and those that don't. I'll ask you this – have you seen a dog in a hoodie? Because it's way too cute! If your best friend isn't lapping up "oohs" and "ahhs" while you're out and about, they'll definitely turn heads wearing something you picked up from Fresh Pawz.
Fresh Pawz is a couture conscious clothing line dedicated to outfitting hip pooches in fashion forward apparel inspired by modern streetwear. Fresh Pawz bridges the gap between culture and your dog.
Let your dog's unique personality shine through with one of their ADIDOG jumpsuits, ADIDOG hoodies or a hoodie harness. Their bold print mesh harnesses are also a great way to add some tail-wagging fetch-able flair.
Need a leash or collar upgrade? They've got styles to fit just about any identity, including licensed patterns like Care Bear, SpongeBob, and MLB teams. Your pup can be an extension of you, and together, you'll both stand out from the pack!
If apparel isn't your dog's thing, Fresh Pawz also carries darling accessories like bandannas and bow ties that attach right to their collar that are fun for trips to the dog park, or parties with friends and family. Neck accessories are the perfect balance of easy fashion without hassle or tangles.
Whether you're going on a walk or just lounging at home, your pup deserves to look as spirited as they are! And for MyBargainBuddy shoppers, fashion never has to be full price! You can get 20% off sitewide using coupon BUDDY at checkout. Standard shipping is $6 or Free if you spend $65 or more. Fashionista fidos rejoice! It's time to look your best with Fresh Pawz.
Sign up for my email newsletter to get tips like this delivered to your inbox!
3