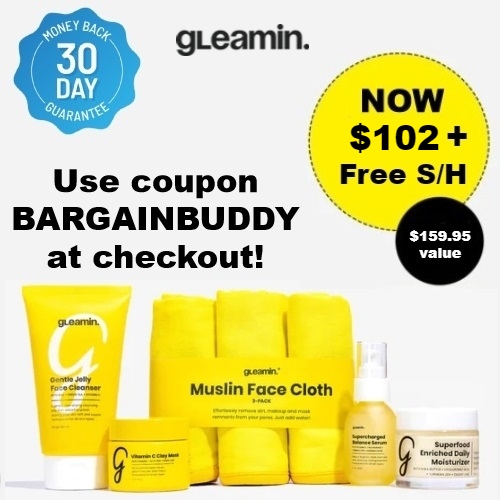 The Gleamin Barefaced Glow Bundle is filled with premium skincare products and accessories to help you achieve blemish-free, glowing skin.

The Barefaced Glow Bundle includes:
Vitamin C Clay Mask – A 10-minute must-have for improving uneven texture, brightening the skin, and fading stubborn dark spots or blemishes – naturally.
Gentle Jelly Face Cleanser – Detoxifies pores, and removes dirt, dead skin cells, and residue, preserving the natural pH levels for balanced, glowy, and refreshed skin.
Muslin Face Cloth (3-Pack) – Apply cleanser to wipe away dirt and makeup residue with these super-soft, reusable washcloths.
Supercharged Balance Serum – Brighten, nourish, hydrate, and balance the skin pH to help achieve and maintain an even complexion.
Superfood Enriched Daily Moisturizer – Instantly hydrates, gradually brightens, and restores the look of youthfulness.
4