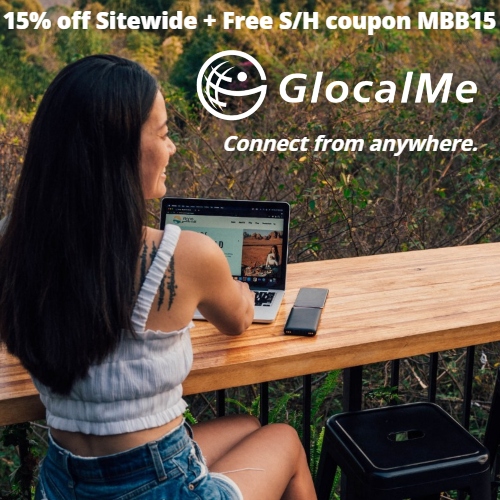 GlocalMe offers a range of portable Wi-Fi devices that help people around the world access mobile internet data more efficiently & affordably.
Their mission is to keep you connected no matter where you are. They offer coverage in over 140 countries with absolutely no roaming fees! Their patented Cloud SIM technology allows you to instantly purchase data through their app, so you can enjoy convenient, high-speed mobile Wi-Fi anytime, anywhere.
Their Wi-Fi hotspots allow you to connect up to 16 devices and are loaded with great features like touchscreens, dual modems, 12 hours of battery life, protected data transmission, and more.
GlocalMe isn't just perfect for traveling abroad, their hotspots are also great for keeping you connected on road trips, while you're camping or hiking, at sporting events, and as a backup Wi-Fi connection for your home or office.
GlocalMe also offers top-notch Wi-Fi enabled security cameras, HomeFlex routers for flexible home internet, and travel accessories, such as neck pillows, eye masks, international power adapters, and more.
Get 15% off Sitewide at GlocalMe using coupon MBB15. All orders ship Free – No minimum purchase required! All products come with a 30-day money back guarantee & a 1-year warranty.
4