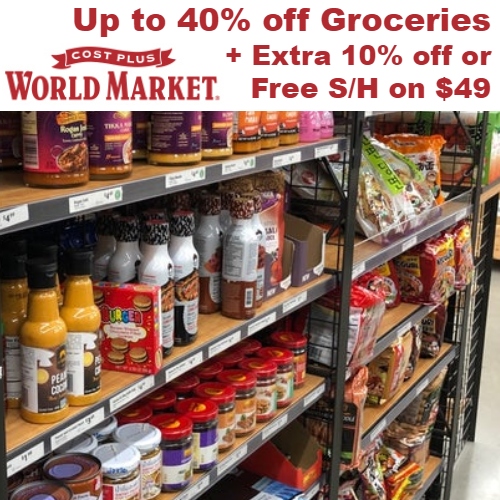 Need groceries? Stock up without having to leave the house! Cost Plus World Market carries coffee, tea, pasta & rice, instant and dried soup mixes, fish, meat & cheese, pizza crusts, condiments & sauces, jams & peanut butter, olive oils, spices & seasonings, snacks, candy and more. They also carry lots of soaps, lotions, and other bath & body items.
Food on sale is up to 40% off + you can get 10% off regularprice items using coupon SAVEBIG10 OR if you're spending $49 or more, you'll save more using coupon WMFS49 to get Free shipping.
All of their retail stores are closed, so you'll need to select "ship to home" items. Going through my links will filter out items that cannot be shipped!
Some of my favorites:
Bistro Dried Mushroom Blend : Simply rehydrate and add to soup, stew, rice, pasta or gravy
German Egg Pasta : The broad noodles are great for stroganoff and the thin noodles can be used in homemade soup
Spicy Tortilla Soup Mix : Can be prepared with or without chicken!
Maggi Spaetzle : Tasty side to serve with just about any kind of sausage
Beer Nuts Bar Mix : Peanuts, sesame sticks, pretzels… YUM!
9