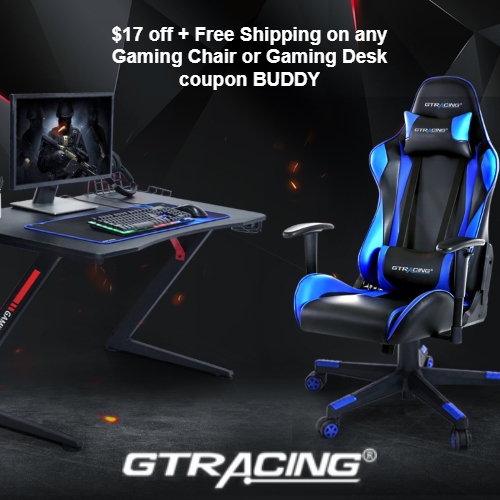 GTRACING Coupon
Today: $17 off + Free Shipping on any Gaming Chair or Gaming Desk
Coupon: BUDDY
Expires: 12/31/20
SHOP NOW
GTRACING specializes in top quality racing-style gaming chairs and desks to support you while gaming or working. They've been delivering their extremely cool and comfortable chairs to millions of users all over the world since 2011.
GTRACING chairs are ergonomically designed to perfectly align your neck and spine for an optimal position while seated for a long time. They come with adjustable armrests, head rests, a 170 degree recline system, mesh and cushion support for comfort and breathability and their sturdy construction makes sure they can handle gamers of all weights and sizes. They have multiple styles and colors to choose from, including their music series that has Bluetooth speakers so you can enjoy cinema-like sound from the comfort of your gaming chair.
GTRACING gaming desks are also ergonomically designed and come with adjustable monitor stands, speaker and controller holders, headphone hooks and power strip holders under the tabletop so you have everything you need, when you need it, without any clutter.
GTRACING gaming chairs and desks will transcend your gaming experience to the next level!
Get $17 off + Free Shipping on any Gaming Chair or Gaming Desk at GTRACING using coupon BUDDY. All orders ship Free.
1