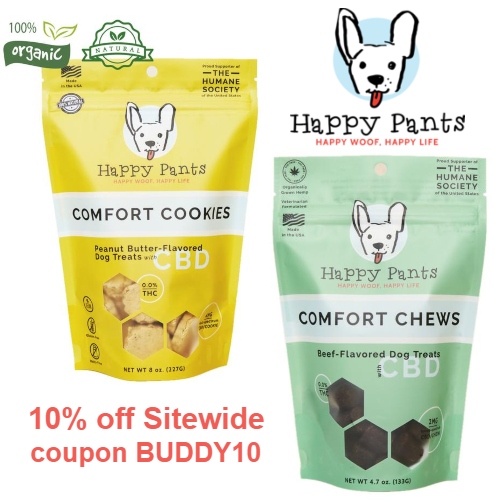 Happy Pants offers delicious CBD dog treats that promote your pet's health and well-being. Their Beef Flavored Comfort Chews and Peanut Butter Flavored Comfort Cookies are THC-free and made in the USA with organically grown hemp.
CBD interacts with a dog's endocannabinoid system to help regulate such things as pain and anxiety. Studies have shown CBD provides many benefits to dogs, including reducing stress & anxiety, helping to prevent arthritis, treating seizures & epilepsy, reducing nausea & vomiting, boosting appetite, relieving pain, promoting homeostasis, promoting cardiovascular health, and helping with allergies & skin conditions.
Get 10% off Sitewide at Happy Pants using coupon BUDDY10. All products come with a 100% money-back guarantee. Shipping is $5 or Free on orders over $35.
Who is Happy Pants?
Since 2009, Happy Pants has exercised dogs in the confines of New York City. Seeing some of their furry friends suffer from anxiety, pain and a variety of other ailments, they furthered their commitment to advancing dog wellness by introducing CBD treats. Their treats deliver all the healing properties of CBD with 0.0% THC. Their treats are veterinarian formulated and include only the necessary ingredients and goodness to make your best friend happy, healthy and wagging for more.
*Disclaimer: The statements made regarding these products have not been evaluated by the Food and Drug Administration. These products contain 0.0% THC and are not intended to diagnose, treat, cure, or prevent any disease.
2