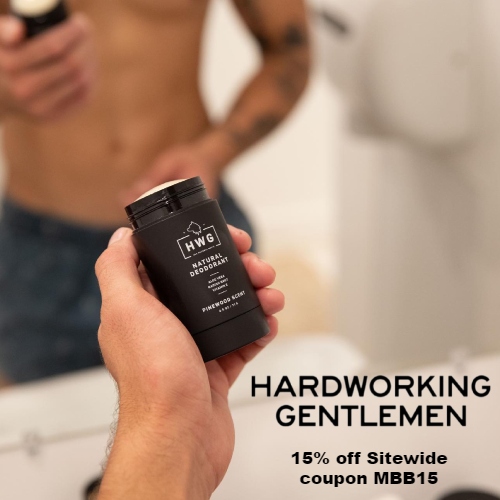 Hardworking Gentlemen is built on authenticity. They make natural and sustainable hair & body care products that men can feel good about using daily.
All products are made in California using the highest quality ingredients, which were specifically chosen because they provide health benefits and outperform their chemical alternatives, like aloe vera, shea butter, jojoba seed oil, beeswax, and Moroccan lava clay.
Their hair care line includes everything you need for effortless grooming, including clay, wax, paste, sea salt spray and styling powder.
The Bath care product line has you covered from head to toe with shampoo, conditioner, face wash, body wash, and bar soap.
Rounding out their essentials, you'll find natural deodorant, moisturizer, face + beard oil, and face + body wipes in their body care line.
Get 15% off Sitewide at Hardworking Gentlemen using coupon MBB15. Shipping is Free on orders over $50. All products are backed by a 30-day money back guarantee. Coupons cannot be applied to bundles.
2