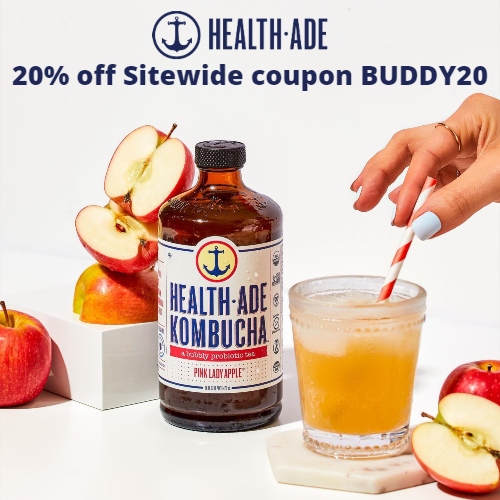 Health-Ade Kombucha is the best tasting and highest quality kombucha you can buy. Hand crafted, it's flavored only with the best ingredients, like cold-pressed juice from organic produce. It's produced in small batches, fermented in glass to prevent plastic and metal leaching, and it's organic, vegan, gluten-free, non-GMO, and certified R.A.W.
Kombucha is a traditionally fermented beverage that is wholesome, natural, and helps you feel good. Health-Ade Kombucha, like other fermented foods, contains healthy acids and living probiotics – both of which are key ingredients to a healthy gut! Kombucha is a great substitute for sugary sodas and juices.
Health-Ade Pop is a totally new kind of soda! It's carbonated and full of flavor with added belly benefits, way less sugar, and nothing fake. Health-Ade Pop blends their awesome kombucha – packed with healthy acids from fermentation – with plant-based prebiotics, belly-loving minerals like calcium and magnesium, and cold-pressed fruit juice for a delicious drink you can feel good about.
Health-Ade Plus combines their classic kombucha with even more power – special aptogenic and functional ingredients for an extra feel-good boost, no matter what you're needing.
Get 20% off Sitewide at Health-Ade using coupon BUDDY20. Shipping is Free on orders over $75. Coupons are not valid on subscription orders.
17