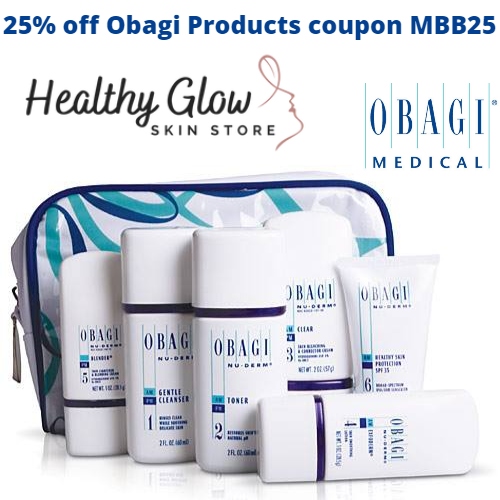 Healthy Glow is a small, woman-owned company that offers 100% authentic physician-dispensed skin care products.
There are many sites out there that claim to sell medical grade products, but are actually selling fakes. The only way to ensure you're getting a genuine product is to purchase it through an authorized medical practice. Healthy Glow is proudly an authorized Obagi medical practice listed under an actual M.D., so you can be confident in every product you purchase.
Obagi is an anti-aging skin care brand that uses the highest grade ingredients in their products. They are proven to treat skin concerns, such as hyperpigmentation, sun damage, skin aging, acne, and many more. The quality and effectiveness of Obagi products make them one of the most recommended brands by skincare professionals across the country.
The Healthy Glow collection of Obagi products has everything you need to get healthy, glowing skin. They carry all of the Obagi lines including:
Obagi Nu-Derm – Transforms skin by correcting hyperpigmentation and improving visible signs of skin aging.
Obagi Professional-C – A powerful antioxidant that fortifies skin barrier defenses to brighten, renew, and reduce signs of aging & visible damage.
Obagi ELASTIderm – Clinically proven to support skin elasticity so it can bounce back from signs of aging.
Obagi CLENZIderm – A therapeutic acne treatment system formulated to combat acne and, with daily use, help prevent future acne from forming. The clinically proven ingredients such as benzoyl peroxide and salicylic acid treat acne where it starts to help provide a clearer, healthier-looking complexion.
Obagi360 – Specially formulated for people in their 20s and 30s, the Obagi360 System provides a foundation for a lifetime of radiant, healthy-looking skin. It treats dull, uneven skin texture & complexion, dry skin, loss of skin radiance & resilience, and reduces the appearance of minimal fine lines, wrinkles, and visible pores.
Obagi-C Rx – Vitamin C + prescription-strength hydroquinone to correct hyperpigmentation such as dark spots and reduce other signs of aging.
Get 25% off Obagi Products at Healthy Glow using coupon MBB25. Shipping is $3 or Free on orders of $49 or more.
3