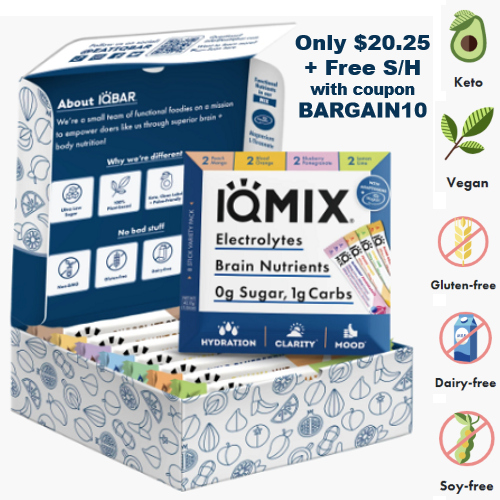 IQBAR is a keto-friendly plant based protein bar that delivers nutrients for your brain as well as your body. Each bar is made with 6 nutrient dense brain ingredients that are shown to support sustained cognitive energy, performance & health and 3 protein packed body ingredients that support strength, stamina & metabolism.
IQMIX hydration mixes that are formulated to improve hydration, cognitive performance, and mood in one refreshing and delicious drink. They contain 0 sugar, only 1 carb.
Try them both with this IQBAR Ultimate Sampler. It includes an IQBAR and an IQMIX in every flavor they make for a total of 7 bars and 8 hydration sticks. Snag a box for just $20.25 + Free shipping using coupon BARGAIN10 (valid for 10% off sitewide). Or get a box for $17.21 if you opt for a subscription!
1