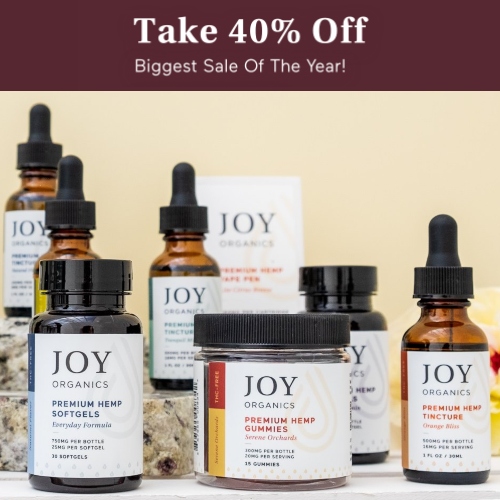 Discounts this big only happen once at year at Joy Organics and it's in celebration of their founder's birthday! In addition to their biggest discount, every purchase on "Joy Day" will provide meals to refugee children in Northern Uganda. Simply add items to your cart to see discount. Coupons cannot be combined with this sale.
If you suffer from chronic pain, arthritis, allergies, anxiety, depression, or have trouble sleeping and have been wondering if CBD products might help, this is a great opportunity to give them a try! In addition to the savings, all products come with a 30-day money back guarantee.
Not sure which product is right for you? Here is a helpful guide that outlines what each of their products is best for.
Popular Products:
CBD Oil Tinctures
Each drop contains Joy Organic's full spectrum, THC-free phytocannabinoid-rich hemp oil. Simple and safe, use under your tongue day or night for an ideal blend of oils and triglycerides.
CBD Softgels with Melatonin for Sleep
Each softgel combines Joy Organic's proprietary water soluble phytocannabinoid-rich hemp oil with melatonin, helping you find predictable and restful sleep.
Pet Products
Veterinarian-formulated treats contain the same proprietary formulas used in their other products, providing superior results in a tasty, dog-approved chew.
Joy Organics sells pharmaceutical grade, organically grown, full spectrum CBD products. Using the most advanced nano technology, they ensure an industry-leading absorption rate and bioavailability.
10