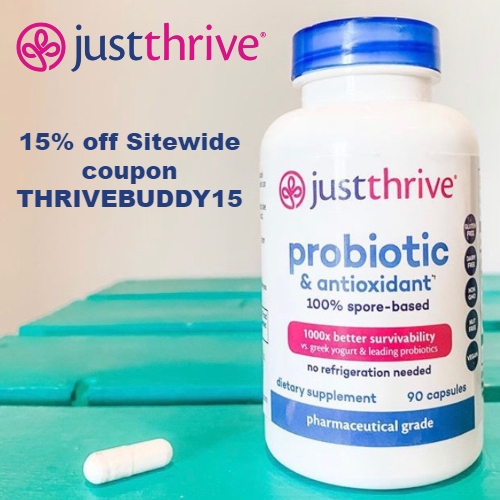 Just Thrive is a 50+ year old wellness brand that empowers you to control your health, live your best life, and feel amazing.
Just Thrive Probiotics support immune health in the digestive system. They contain a patented strain called Bacillus Indicus HU36®, which produces antioxidants in the digestive system, where they can be best absorbed by your body.
Just Thrive Prebiotics contain three clinically tested prebiotics that selectively nourish and support beneficial gut bacteria and increase nutrient absorption, including essential minerals like calcium and magnesium that are important for strong bones.
Just Thrive Immunity Health Supplements help your immune system react the right way at the right time and support healthy digestion.
Just Thrive Vitamin K2-7 Supplements support healthy heart, circulation, brain, bones and nerves and is an award-winning industry-wide supplement for bone health.
Just Thrive Gluten-Away is a unique blend of powerful digestive enzymes and probiotics designed to support optimal gluten digestion and protect against hidden sources of gluten.
Just Thrive Pets Probiotic is a clinically proven and effective spore probiotic to help your furry friend feel their best. It's the first dog-friendly probiotic supplement clinically shown to survive the journey from your pup's mouth to their intestines.
Get 15% off Sitewide at Just Thrive using coupon THRIVEBUDDY15. Shipping is $4.99 if you order 1 or 2 bottles. Shipping is Free if you order 3 or more bottles. All products come with a 100% customer satisfaction 30-Day Bottom-of-the-Bottle guarantee.
Coupon is not valid on subscription orders.
23