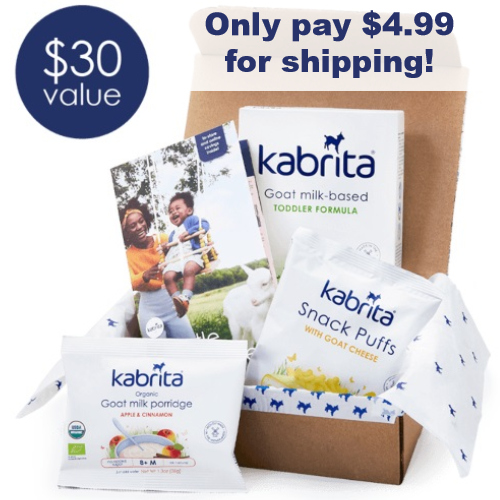 Kabrita delivers nourishment and comfort to toddlers and their parents through a line of gentle goat milk-based foods. They offer families a new choice in formula feeding – one that marries the idea of all-natural with the rigor and safety of science.
Goat's milk is naturally easier to digest than cow's milk, so it's gentle on tiny tummies. It has a mild sweet taste, is rich in critical nutrients, and has many health-promoting benefits.
Join thousands of families who have made the switch to Kabrita's line of Gentle Goat Milk Foods by starting with their sample kit. This is not a subscription and coupons cannot be applied to this sample box. If you'd like to order something else, you can get 10% off Sitewide using coupon BARGAINBUDDY.
Sample kit includes:
5.3 oz carton of Goat Milk Toddler Formula
1.3 oz bag of Organic Goat Milk Porridge
0.53 oz bag of Snack Puffs with Goat Cheese
1