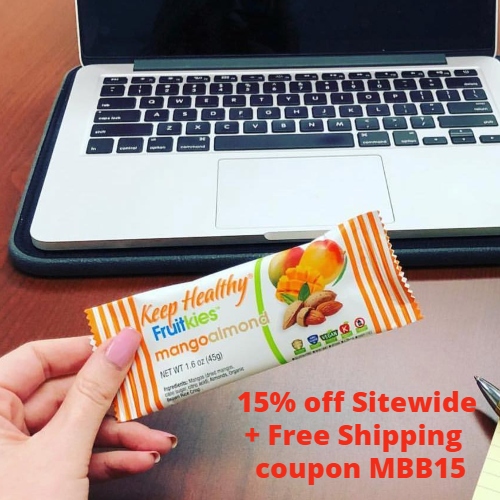 Keep Healthy makes convenient, healthy, and delicious alternatives to the many processed, chemically altered, and artificial-sugar-filled snacks on the market today. Keep Healthy uses only the best quality ingredients – their snack bars have an average of only 3, easy to pronounce, 100% natural ingredients per bar! All bars are gluten free, kosher certified, vegan, certified organic, and non-GMO. They're also made in the USA.
They offer delicious Fruit & Nut Bars, Chocolate Covered Fruit And Nut Snack Bars, and Low Glycemic Protein Bars in great flavors like sea salt brownie, banana nut, chocolate covered cherry, apple walnut date, chocolate fudge and more. Not sure which flavor sounds the best? Try their variety pack – you can try all 14 flavors for only $17.85 with coupon MBB15.
Keep Healthy protein bars are packed with 12g to 15g of plant-based protein to keep you feeling full and satisfied. They're great to have on hand when you're on the go and hunger hits. No more fast food or processed snacks from gas stations! And the fruit & nut bars are a great alternative to sugary granola bars for your kids.
Get 15% off Sitewide at Keep Healthy using coupon MBB15. All orders ship Free and come with Free samples!
8