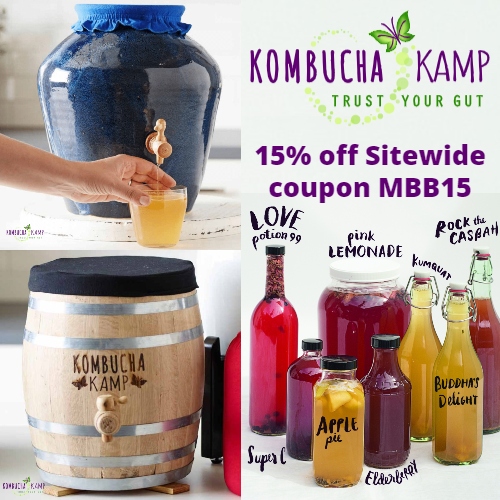 Have you ever wanted to make your own kombucha but have no idea where to start? Kombucha has tons of health benefits, including better digestion, mental clarity, and increased energy. But it can be super expensive to buy in stores and brewing your own can be overwhelming.
That's where Kombucha Kamp comes in! They provide all the tools, ingredients, information, and support you need to easily and successfully brew your own kombucha.
They offer a large selection of kombucha products, including brewers, heating systems & testing tools, complete brewing kits, bottling supplies, a variety of teas, tisanes & flavors, high quality scobys (kombucha mother cultures), as well as JUN, milk kefir & water kefir cultures, and more.
Their Complete Continuous Brew Kits are the most convenient & easiest way to start brewing kombucha at home. They include all of the supplies & ingredients you need to hit the ground running, including starter, scobys, tea, and your choice of one flavoring.
Once you've completed your first batch in your continuous brewer, all you have to do is add sweet tea when it's time to make more. They have 4 styles of kombucha continuous brewing vessels to choose from, so you can find the brewer that's just right for you.
Get 15% off Sitewide at Kombucha Kamp using coupon MBB15. Shipping is Free on orders of $50 or more.
Want the complete guide to kombucha? Check out Kombucha Kamp's popular book, The Big Book of Kombucha. It includes over 400 pages of instruction, tips & troubleshooting, over 400 recipes, and 268 unique flavoring ideas.
7