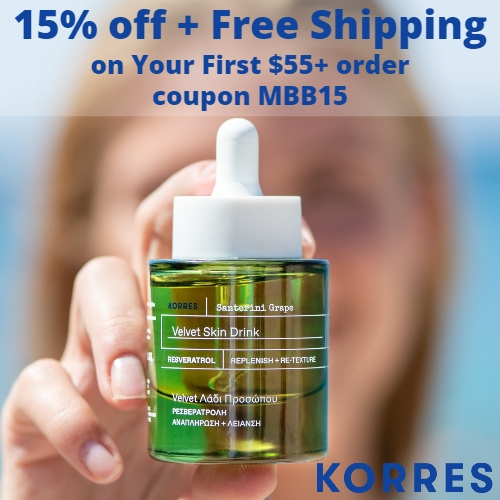 Korres offers clean skincare made with the finest natural ingredients from Greece and inspired by centuries of Mediterranean tradition. Their premium Greek skincare and beauty formulations deliver healthy, transformative results without the harsh chemicals found in other products.
Korres uses only natural actives because skin reacts to natural ingredients better. Many brands use synthetic actives because chemical ingredients are easier to use since they are more stable. Natural ingredients are less predictable, so working with them requires advanced skill. Each Korres product is made by a leading team of scientists that specialize in working with natural ingredients, so you know you're getting a safe & effective product every time.
Korres has done extensive research to find the best natural ingredients for healthy, balanced, nourished skin with a radiant Greek glow. Their unique formulas are made using plants and flowers that have grown in the wilds of Greece for thousands of years. They work closely with native Greek farmers to grow these high quality, organic ingredients and make sure they are harvested at peak potency.
You'll find a full line of skincare, bath & body care, and fragrances at Korres. Some of their best sellers include:
Greek Yoghurt Foaming Cleanser – A Mediterranean superfood cream cleanser formulated with pre- and probiotic Greek yoghurt that removes makeup, locks in hydration, deep cleans pores, tones your complexion, and reduces redness to leave skin pure and nourished.
Santorini Grape Velvet Skin Drink – Transform and smooth skin to velvet with a single drop. This multi-tasking treatment smooths textured skin, blurs imperfections, and replenishes skin with rich hydration.
Pure Greek Olive 3-in-1 Nourishing Oil – This ultimate all-in-one skincare multi-tasker is made with the purest Greek olive oil. It is expertly formulated to restore vital antioxidants, vitamins, and omega fatty acids that nourish and hydrate skin for a healthy, youthful glow.
Get 15% off and Free Shipping on your first order of $55 or more at Korres using coupon MBB15. Coupon is not valid on bundles.
All Korres products are backed by a 45-day return policy. Excludes trial kits.
1