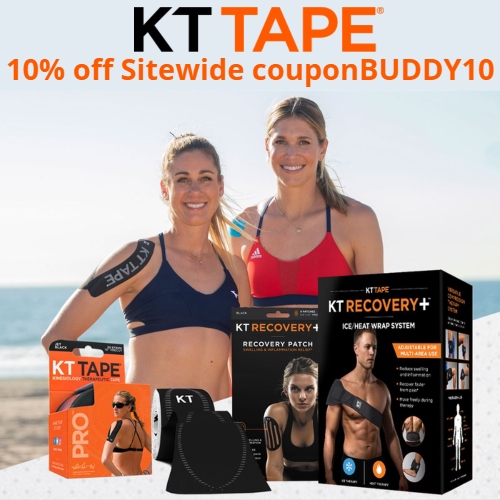 KT Tape is an elastic sports and fitness tape designed to help you treat pain & injuries, recover faster, and play harder. KT Tape is a flexible version of a brace or traditional athletic tape, kind of like an adhesive ace bandage. It supports sore muscles & joints without the bulk or limiting the body's natural movement.
Whether you are training for your first marathon, getting ready for your first game, reaching a personal fitness goal, or just trying to get through the day, nothing slows you down more than pain and injury. KT Tape provides the pain relief and the support you need to keep going.
KT Tape is trusted by many medical providers, including physicians, physical therapists, athletic trainers, chiropractors, and massage therapists. It is light weight, comfortable to wear, and can be used for many common injuries. It is easily applied along muscles, ligaments, and tendons (soft tissue) to provide external support.
KT Tape comes in many colors and multiple strengths to support many types of injuries and any athlete. KT Tape also offers other premium support & pain relieving products, like massage balls, blister prevention tape, pain relieving gel, anti-chafing wipes, and more. Have chronic pain? Check out their new KT Recovery+ Wave, a breakthrough in drug-free pain relief that is lightweight, wearable, and uses clinically proven electromagnetic therapy to treat chronic pain.
Fun Fact: KT Tape is a proud licensee of Team USA!
Get 10% off Sitewide at KT Tape using coupon BUDDY10. Shipping is Free on orders of $50 or more.
For extra savings check out their already discounted bundle deals.
3