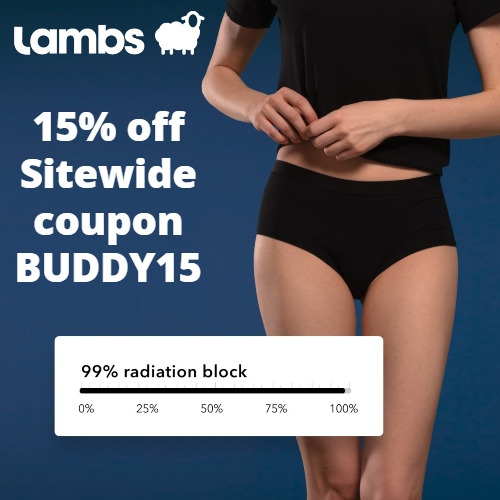 Lambs EMF-blocking apparel is designed to protect you from everyday exposures to wireless radiation. Their Faraday line of apparel, accessories, and underwear are made with Wavestopper Fabric Technology that blocks 99% of harmful wireless radiation! This line includes men's and women's shirts, socks, caps & beanies, blue light blocking glasses, radiation blocking belly bands for protection during pregnancy, and their super comfortable, breathable underwear.
In addition to their radiation blocking Faraday line, Lambs also offers a collection of antimicrobial and antiviral accessories designed to defend against germs called the Pasteur line. This line includes face masks, socks, and their handy Snapback Glove that hangs conveniently from your belt so it's accessible when you need it to pick something up, open a door, sign a receipt, etc., then it snaps right back when you're done.
All Lambs products are extra soft & comfortable and feature naturally antibacterial and antiviral XSoft Silver fibers that limit the spread of pathogens and kill odors.
Lambs is so confident that you'll love their underwear, they offer a 30-day trial period on your first underwear purchase. If you're not sold by day 30, you can keep the underwear and get a full refund (offer only valid for 1 pair of underwear).
Get 15% off Sitewide at Lambs using coupon BUDDY15. Shipping is $4.90 or Free on orders of $100 or more.
All Faraday products come with a 30-day money back guarantee (exclusions apply for Pasteur products due to covid19 safety).
Fun Fact: Lambs has been featured in Forbes, GQ, Men's Health, Mashable, and more!
Love Lambs products? Join their rewards program to earn points & exclusive rewards every time you shop!
3