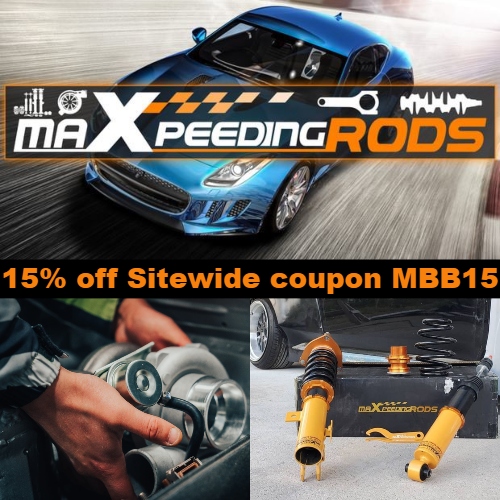 MaXpeedingRods provides high performance racing addition & street addition auto parts. They value the performance of all of their parts and have done a great deal of research in both the racing-edition and street-edition products. MaXpeedingRods offers overall racing car performance optimization solutions for professional and competitive racing drivers, as well as street-edition products for the general public that provide high-quality and affordable modified car parts for non-competitive modified car enthusiasts.
MaXpeedingRods has parts for almost any make & model and offers a wide range of products for your entire vehicle, including turbochargers, body parts & accessories, suspension kits, engine system parts, brake system parts, drivetrain parts, carburetors, and more.
Get 15% off Sitewide at MaXpeedingRods using coupon MBB15. All parts that ship from the U.S. ship Free and all products come with a 30-day satisfaction guarantee.
2