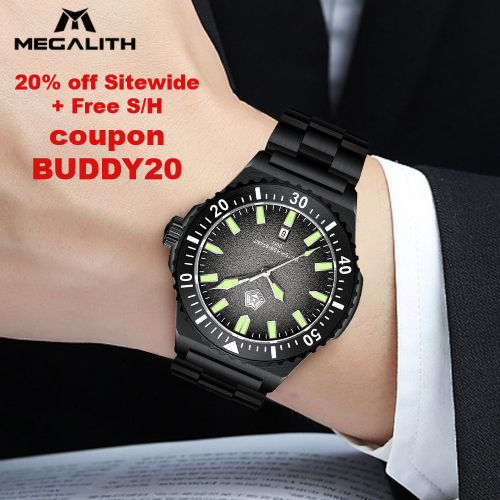 Megalith believes every man deserves an elegant watch. But when you're just starting out, you can't always afford the steep prices of the luxury watch brands. That's where Megalith Watch comes in! They offer luxurious-looking, high-quality men's watches at affordable prices.
Megalith is on a mission to be every man's first watch. The watches they create have distinct personality and functionality. They are carefully designed with premium materials that look expensive, so you don't have to break the bank or take on ridiculous debt to with a luxury watch.
Megalith watches have tons of functional features, like digital dual dials, impact & water resistance, alarm clocks, timers & stopwatches, calendars, luminous backlights, and more. They come in many great styles, colors, and designs, so no matter what type of watch you're looking for, Megalith is sure to have a premium watch you will enjoy at a price you can afford.
Get 20% off Sitewide at Megalith Watch using coupon BUDDY20. All orders ship Free – No minimum purchase required! All watches come with a 1-year warranty and a 30-day satisfaction guarantee.
3