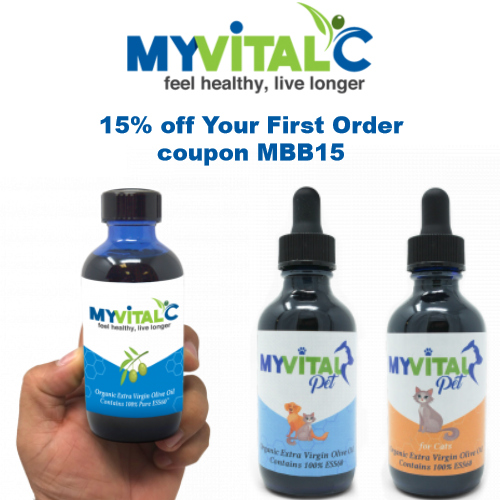 MyVitalC provides pure and high quality ESS60 in olive oil, MCT oil, and avocado oil, as well as daily single shots in olive oil and MyVitalPet to keep your pups as healthy as you! ESS60 is considered to be one of the most powerful antioxidants on Earth and has TONS of health benefits!
Benefits of ESS60 include:
– Longevity
– Lower Risk of Heart Disease
– Better Vision
– Improved Mental Acuity
– Lower Blood Pressure
– Management of Osteoarthritis
– Increased Strength and Vitality
– Protection of Nervous System
– Improved Hair Growth
– Improved Hair Color
MyVitalC uses only the best Certified Organic oils in their products. The Olive Oil is directly sourced from individual orchards around the world and is Certified USDA Organic & Kosher. This awarding winning Organic Extra Virgin Olive Oil can be found in many of the fine, high-end restaurants around the world and is known for its extraordinary taste!
Get 15% off Your First Order at MyVitalC using coupon MBB15. Coupon is valid on one-time purchases and subscription orders. For a huge savings check out their yearly supplies – you can save up to $369 with the coupon! Shipping is a flat rate of $7.49 on most orders.
ESS60 is the formulation of C60 used in the original study that showed ESS60 to double the lifespan of rats. ESS60 is raw C60 that has been processed for safe human consumption. MyVitalC starts with the purest form of SES Research Inc. ESS60 and is systematically stirred in the dark at a controlled temperature with an inert buffer gas, mixed with only the best Certified Organic oils, and finally, it is lovingly poured into their medical-grade cobalt blue glass bottles, for protection from UV light, and shipped directly to you!
3