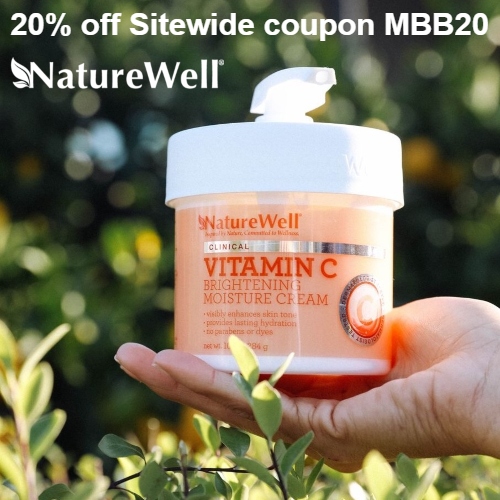 NatureWell offers nature inspired moisturizing creams that feature nutrient-rich botanicals, potent humectants, and proven skin conditioners for healthy hydration. Driven by efficacy, each product contains responsibly sourced ingredients. Their products are plant based, gluten & soy free, cruelty free, and free of parabens, phthalates, formaldehyde, and artificial colors.
Their great line of moisturizing creams includes –
Extra Virgin Coconut Oil Moisturizing Cream – Formulated with proven antioxidants, this cream is a light yet effective skin conditioner that provides intense hydration to help maintain visually softer, smoother and more supple skin.
Vitamin C Brightening Moisture Cream – Formulated with advanced micro-encapsulated Vitamin C for improved efficacy and enhanced delivery, this cream helps improve overall tone and texture. Absorbs easily without a greasy residue.
Collagen Intense Moisturizing Cream – Immediately hydrates, improves surface plumpness, and tames flakes for ultimately smooth, supple skin.
Retinol Advanced Moisture Cream – This cream boosts firmness and elasticity while improving overall tone and texture.
Ultra Refined Avocado Oil Moisturizing Cream – Formulated with a nourishing blend of Avocado, Grapeseed and Macadamia Nut oils, it works to transform dry, dehydrated skin, leaving it silky smooth and supple.
Not sure which one to try first? You can try all 5 with their On The Go Gift Set that includes a 2 oz. tube of each moisturizer. This set makes a great gift and the small tubes are handy to keep in your car, office, or purse so you always have one on hand.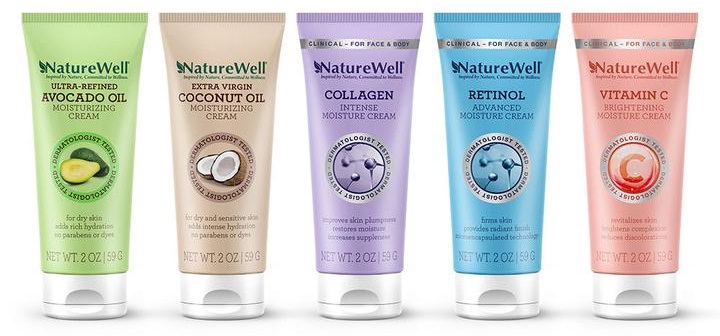 Their other products include refreshing lemon hand soap, hand sanitizer, Rose Water Facial Toner, and their signature Dynamic Renewal Cream, designed to hydrate, restore radiance, and reduce the appearance of fine lines.
Get 20% off Sitewide at NatureWell using coupon MBB20. Shipping is $4.99 or Free on orders of $45 of more. Coupon is not valid on subscription orders.
2