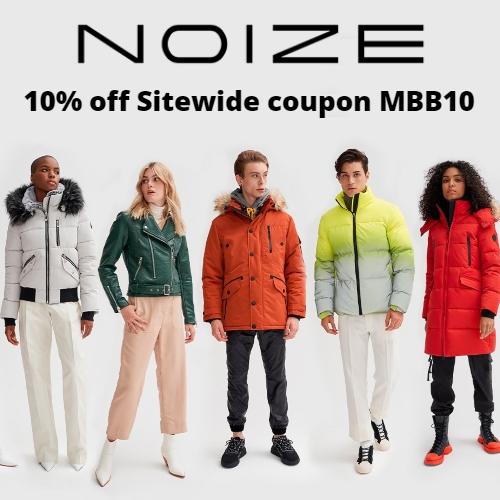 NOIZE offers stylish, environmentally conscious, and cruelty-free apparel and outerwear for men, women, and dogs.
NOIZE was born from the belief that what we wear today should not only look and feel great, but should also champion positive contributions toward a better tomorrow. While their looks rival those right off the runway from New York to Milan, they're also conscious of the overwhelming damage to our planet caused by animal-derived materials. Their PETA approved vegan fur and leather alternatives are equal in warmth, comfort and style – all without harming animals or wasting essential resources we all need to thrive.
Their selection of apparel & outerwear includes men's and women's windbreakers, raincoats, parkas, puffers, loungewear, hoodies, and joggers, women's shoes & accessories, coats for dogs, and more – all made from cruelty-free materials.
Get 10% off Sitewide at NOIZE using coupob MBB10. Be sure to check out their men's & women's sale sections. Items are up to 50% off before coupon! Shipping is Free on orders of $150 or more.
About NOIZE sustainable, environmentally conscious, cruelty free materials –
Recycled Fill – An environmentally friendly and humane insulation alternative, their recycled fill sets the bar high. Using innovative technology from their partners at RePET and REPREVE, their insulation fill is made entirely from reclaimed and repurposed recycled plastic bottles. The result? A light-weight high-performance fill, keeping you warm no matter your definition of cold.
Recycled Plastic – Their accessories are made using innovative and trusted technology from REPREVE, while their loungewear collection of everyday essentials are made from recycled water bottles. Every piece of these collections contains their promise to keep plastic bottles out of our oceans and landfills for generations to come.
Vegan Fur – When temperatures start to drop, their luxuriously soft vegan furs are a modern and cruelty-free alternative. Kind living at its best and approved by PETA, you'll never have to compromise style, comfort, or warmth. They offer all the benefits of real fur, but with zero harm to our furry friends.
Vegan Wool – PETA approved, their vegan wool is just as warm and cozy as the real thing. Ethical and environmentally conscious, their vegan wool fabrics are also wind-resistant and itch-free.
Organic Cotton – Their organic cotton is certified organic by the Global Organic Textile Standard. It is free of pesticides & synthetic additives and was not genetically modified. This standard ensures environmental and social responsibility throughout the production of textiles from harvesting fiber to manufacturing and labelling. Did you know that more than 2.4% of the world's cultivated land is conventional cotton, which accounts for 7% of the world's pesticides and 18% of the world's insecticides? By using organic cotton, they are using 88% less water and 62% less energy compared to conventional cotton.
Algae-Based – Using an innovative technology, they transform algae to insoles. This algae-based insole was developed for your comfort with the planet in mind. Algae is one the quickest growing plants on earth; it is also crucial to the management of aquatic ecosystems. Algae thrives in rising temperatures, but excess algae can suffocate aquatic life. Algae grows and decays quickly, once it decays it begins to consume oxygen from the ocean. By sourcing their foam inserts with algae, they are harvesting a sustainable material while helping aquatic life.
3