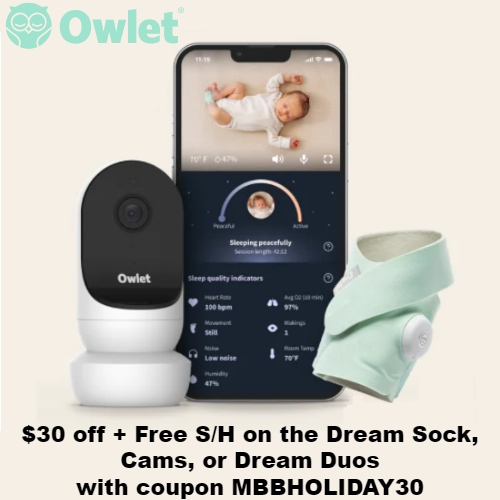 Owlet Coupon
Today: $30 off + Free S/H on the Dream Sock, Cams, or Dream Duos
Coupon: MBBHOLIDAY30
Expires: 12/31/23
SHOP NOW
Owlet is dedicated to providing products for new parents that provide peace of mind and help take the guesswork out of baby care.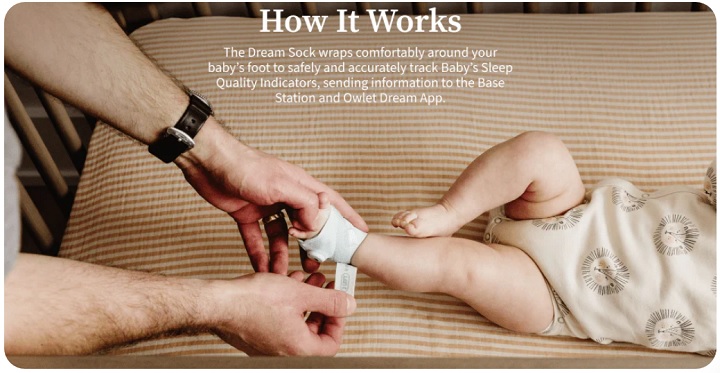 Their flagship product, the Dream Sock baby monitor, notifies parents with lights and sounds if their baby's comfort or sleep quality changes. This award-winning device comfortably wraps around your baby's foot and utilizes PPG technology to track multiple sleep quality indicators, such as heart rate, average oxygen level, movement, and wakings. The Dream App keeps track of baby's sleep patterns so you can better predict when they might need a nap or how long they might sleep.
The Cam (1st generation) and Cam 2 (2nd generation) both stream HD 1080p video over a secure, encrypted WiFi connection, so you can hear and see your baby from anywhere. They feature 2-way talk, provide sound and motion notifications, room temperature & humidity readings, night vision, and have a 130-degree wide-angle lens for optimal viewing. The Cam 2 bonus features include cry notifications, save & share video clips, and it has new exclusive color options.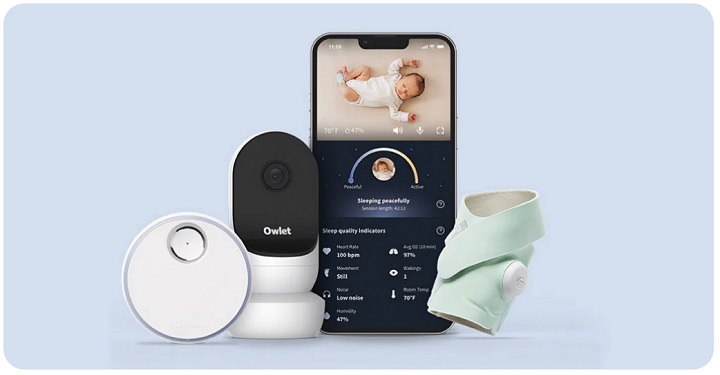 The Dream Duo (with their 1st generation cam) and Dream Duo 2 (with the cam 2) are their most advanced monitoring systems to date. The sets include the Dream Sock and Cam and it is the only baby monitor on the market that can track heart rate and average oxygen as sleep quality indicators – all while streaming HD video right to your phone. Their predictive sleep technology automatically tracks your baby's sleep and wake windows and the Dream App will let you know when baby might be ready for sleep.
Get $30 off and Free shipping on the Dream Sock, Cam, Cam 2, Dream Duo, or Dream Duo 2 at Owlet using coupon MBBHOLIDAY30. These items are backed by a 30-night satisfaction guarantee – Try them risk-free for 30 days & nights. If you're not happy with how they work, you can return them for a full refund.
The Dream Sock, Dream Duo, and Dream Duo 2 are HSA/FSA approved, so you can use your HSA/FSA funds to purchase these products!
1