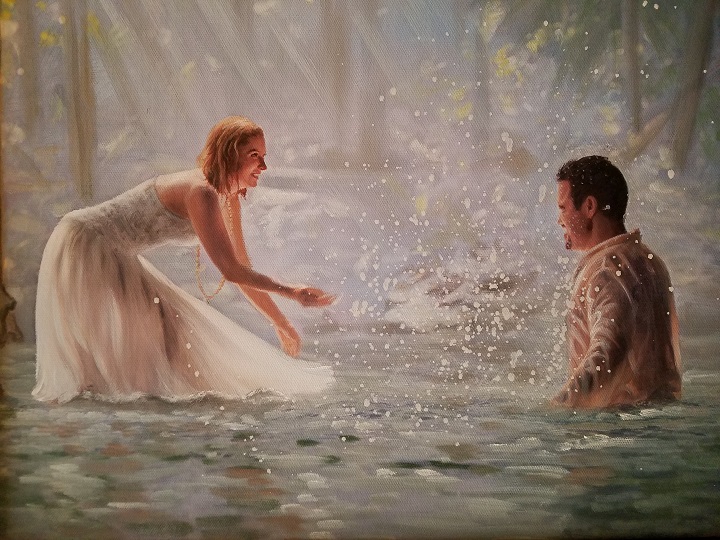 I had one of my wedding photos turned into a painting by PaintYourLife and I couldn't be more thrilled with how it turned out!
PaintYourLife.com provided me with a free painting in return for my honest review. All opinions expressed in this post are my own. This post contains affiliate links. See my disclosure policy for more details.
When PaintYourLife offered to send me a painting to review their service, I jumped at the chance! 7 years ago, my husband and I got married in a cenote on the Yucatan Peninsula in Mexico. We'd been wanting to get one of our photos enlarged and possibly printed on canvas, but never got around to doing it, so this seemed like a wonderful opportunity.
The Process
Honestly, the hardest part of the whole process was deciding on which photo to have turned into a painting. After thinking it over for a weekend, we decided on this one.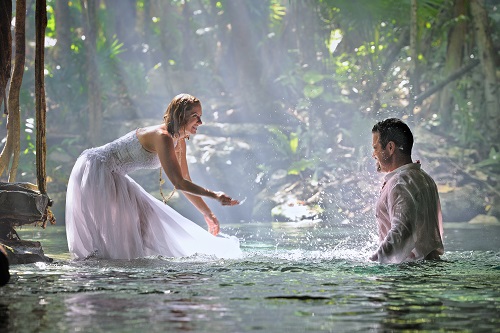 After you choose the photo you want to use, the next thing you will need to decide on is the medium. PaintYourLife can turn your photo into a piece of art created with oil paint, charcoal, pencil, watercolor, pastel or acrylic. I decided on oil, as it is painted on canvas and it is the most traditional. I also appreciated how the subjects in their examples were realistic, but softened in the oil paintings.

After you select the medium, you can upload your photo. Something really neat is you can upload multiple photos if you wish to have several photos merged into the same painting or if you need the artist's advice. If you don't have the photo on your computer or device, you can import it from Facebook or Instagram. You can also email it to them or mail them a hardcopy the old fashioned way.
Another cool thing PaintYourLife can do is alter the background of the photo. If the background isn't an important part of the photo, they can replace it with a solid background.

The third and final step in ordering your painting is deciding on a size. I went with 16″x20″, which is their most popular size along with 24″x36″. Also during this stage, you will need to decide if you want your painting "gallery wrapped" or not. In a gallery wrapped painting, the edges of the image bleed over onto the sides and the painting does not need to be framed. Gallery wrap is the only framing option they need to know in advance, because they will need to paint extra size to cover the sides. If gallery wrap is not your thing, go with the "Choose later" option and you can postpone the frame selection until after you see the online proof of your painting.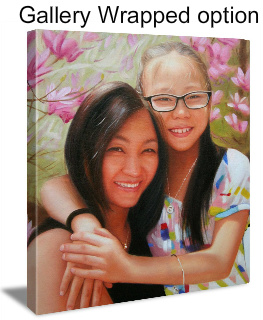 The only thing left is reviewing your order and submitting it. Check to make sure your selections are correct and enter coupon MBBFDAY20 for 20% off your order. Regardless of the size or amount of paintings you order, shipping is always Free. Gotta love that!
Only a 20% deposit is due when you submit your order. The balance is due after you view and approve an online proof of your painting. Unlimited revisions are included and they offer a no questions asked 100% money back guarantee.
Turn Around Time
Three days after I submitted my order, I got an email with a preview of my painting in progress. It was fun to see my photo being transformed into a painting. It made me even more excited to see the final result. Thankfully, I didn't have too wait long. Just a day and a half later, I received another email letting me know my painting was finished and waiting for my approval. At this stage, I could have asked for edits, but I didn't think the painting needed any. It looked 100% amazing! I approved it immediately and set out choosing my frame (some examples below). I got a shipping notice 3 days later and my painting was delivered by FedEx a few days after that.

Ready to Order?
If you'd like to have one of your cherished photos turned into a painting, be sure to use the coupon below to save some money! Remember, shipping is Free on all orders.
Get 20% off any painting size/style with coupon MBBFDAY20. Offer ends 5/29/22.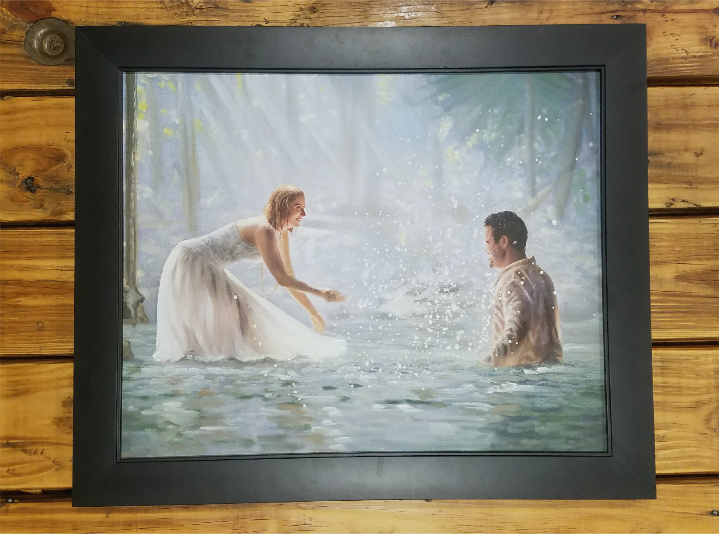 29