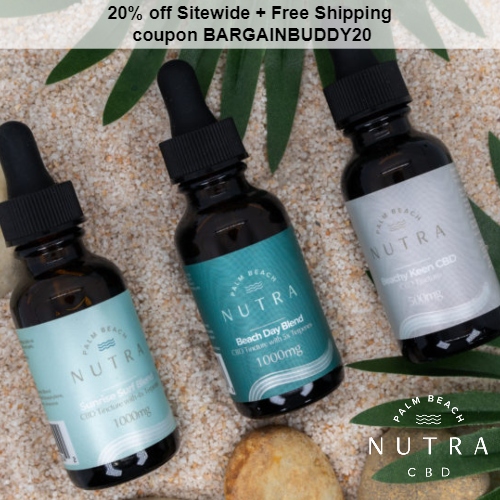 Palm Beach Nutra CBD sells premium CBD tinctures, gummies, capsules, topicals and CBD pet treats. Their products help ease aches and pains and promote relaxation and restful sleep. Whether a part of your daily routine or as a supplement to your medical cannabis journey, their ZERO-THC CBD line is a cost-effective, quality source of hemp-derived cannabinoids for your personal wellness plan.
Be sure to check out their tinctures with terpenes. Terpenes are essential oils found in many fruits, vegetables, and other plants, including cannabis and hemp, that research has shown to have their own medical properties. When CBD is taken along with natural terpenes, the CBD acts more efficiently and effectively, essentially doubling its medical effects.
Get 20% off Sitewide + Free Shipping at Palm Beach Nutra CBD using coupon BARGAINBUDDY20.
4