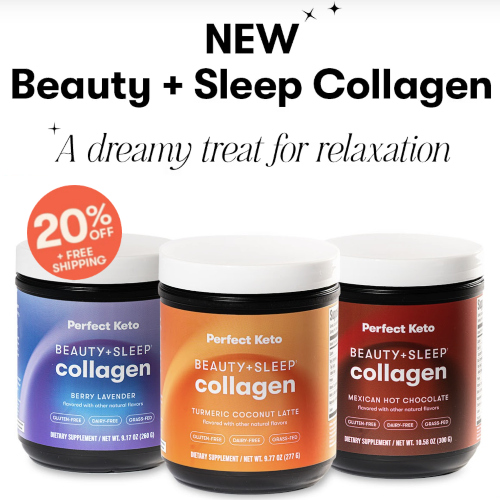 Perfect Keto just launched their new Beauty+Sleep Collagen. It's a delicious collagen powder specifically designed to help you achieve deep sleep that is both restful and rejuvenating. This is all thanks to the natural, non-habit forming ingredients inside, like:
💪 Magnesium citrate – To aid in muscle relaxation
🧠 L-Theanine – To ease anxiety, reduce stress, and aid sleep
😴 Ashwagandha – To combat stress, inflammation, and insomnia
💆 Biotin – To support skin health
🔬 Glycine – To support cellular health
💁 Hyaluronic Acid – To combat unwanted signs of aging in skin
✨ L-lysine – To support skin elasticity and firmness
And UNLIKE similar products from other brands, Beauty+Sleep Collagen has:
❌ No added sugar
​​❌ No melatonin
❌ No junk flavors or fillers
❌ No soy or gluten
Get 20% off Perfect Keto's Beauty+Sleep Collagen (and everything else they carry, even bundles, which typically cannot be discounted with coupons!) using coupon SLEEPFIRST. Shipping is currently Free on all orders!
Perfect Keto products are backed by a 30-day satisfaction guarantee. They'll give you a full refund if you don't love what you buy. No questions asked.
1