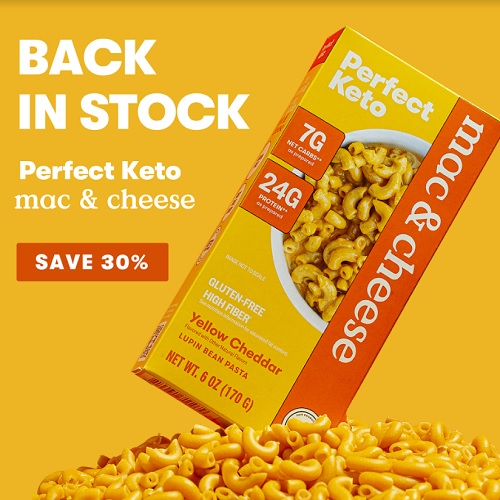 Perfect Keto Deal
Today: Up to 30% off Everything + 30-Day Money-Back Guarantee
Not valid with coupons
Expires: 6/19/22
SHOP NOW
Perfect Keto products are made with real food ingredients to promote better health. They contain no gluten, grains, soy, corn, added sugar, artificial flavors/colors, fillers or chemicals. Whether you're just starting a keto diet or you've been living a keto lifestyle for years, they've got all the snacks and supplements you need to stay on track!
In case you haven't heard, they also carry the world's first keto-certified pasta. Yep. Pasta. Mac-N-Cheese to be specific. It's as quick and easy to prepare as the stuff in the blue box with all the cheesy creaminess you love, but with none of the junk or guilt. When they introduced it last month, it sold out in just 6 hours!
Place an order today or tomorrow and you'll get 15% off 1 item, 20% off 2 items, 25% off 3 items, or 30% off 4 or more items. Shipping is Free on orders over $60.
Simply add products to your cart and the discount will apply automatically. All Perfect Keto products come with a 30-day satisfaction guarantee.
Bundles do not qualify for an extra discount, but they are included in the product count that determines your discount.
9