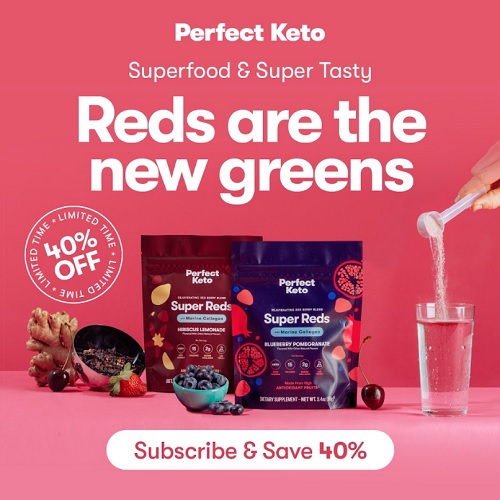 You heard it here first: Reds are the new Greens. Reds are a vibrant blend of nutrient-dense fruits and vegetables that will tantalize your taste buds and provide your body with an abundance of essential vitamins, minerals, and antioxidants.
Unlike Greens (which primarily consist of bitter leafy greens), sipping on Reds is like enjoying a fruity feast while nourishing your body from within. Perfect Keto Super Reds is a 15 calorie, 1-2g net carb superfood blend that delivers all the benefits of juicing, without the work or the sugar.
⚡ Natural Energy – Super Reds is a caffeine-free energy boost powered by antioxidant-rich berries.
😍 Irresistibly Delicious – A mouthwatering daily treat packed with delightful flavors.
🍊 Fights Inflammation & Boosts Immunity Naturally – Thanks to 100% DV Vitamin C from real fruit sources (not the Ascorbic acid you'll find in similar products)
🐟 Marine Collagen for Youthful, Supple Skin – Supports skin elasticity, hydration, and assists in reducing the appearance of wrinkles.
🍹 Indulge Guilt-Free – Just 15 calories and 1-2g net carbs per serving, with 0g added sugar.
The team at Perfect Keto let me in on a special 2-day flash sale to save BIG on Super Reds: Place a subscription order and you'll get 40% off your first month using coupon SUPER40 (exp. 6/9). All subscriptions ship Free and all products are backed by a 30-day money-back guarantee. Not feeling it one month? Pause your subscription easily (for up to 3 months) and resume it when you're ready. No questions, no fees, no worries!
See something else you'd like to try or don't want to order a subscription? Use coupon PKBUDDY20 to get 20% off any order.
2