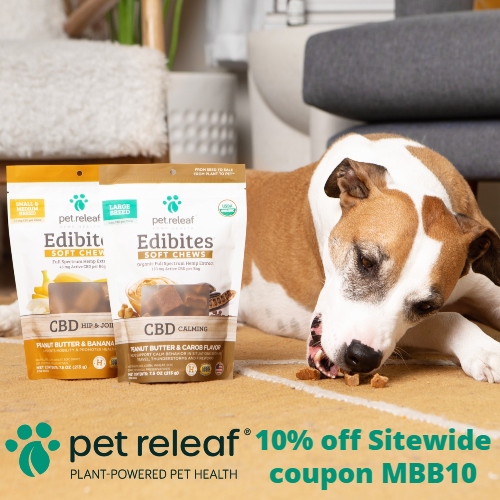 Pet Releaf is a pet CBD company that is on a mission to change what healthy means for pets by providing safe, effective, and natural alternatives to pet health & wellness supplements.
Their vigilant seed-to-sale practices have made them one of the most-trusted names in the pet CBD industry. They use only the highest quality ingredients in their products and their hemp is grown using regenerative & sustainable farming practices.
Pet Releaf operates in a sustainable manner every step of the way – From reducing emissions by having an on-site extraction facility to working with manufacturers that utilize 100% renewable electricity.
Their premium hemp oils, topicals, Edibite dog treats, and capsule supplements are specially formulated for to help with situational stress, hip and joint health, healthy immune system, skin & paw health, and more.
Their patent pending formulation, Sentesa, was developed specifically for Pet Releaf by a world renowned scientist. It is a revolutionary TriActive supplement for dogs that combines betacaryophyllene, caprylic acid, and full spectrum hemp extract to produce a synergistic effect in your pet's body that supports their immune system, enhances bone health, and supports a healthy brain.
Get 10% off Sitewide at Pet Releaf using coupon MBB10. Coupon will apply to one time orders and to your first shipment on a subscription order. Shipping is $5.95 or Free on orders of $75 or more. All subscription orders ship Free!
For the best deal and to ensure you never run out, consider a subscription. You'll get an automatic 10% off all products, Free shipping with no minimum purchase requirement, and every 6th shipment is completely Free! You can choose to have your products delivered every 2 weeks, every month, every 6 weeks, or every 2 months. There are no commitments and you can cancel anytime.
All products come with a 30-day satisfaction guarantee. If for any reason you aren't completely satisfied with your purchase, you can request a full refund within 30 days of the purchase date.
Pet Releaf's mission to change what healthy means for pets includes rescue animals. Every purchase contributes to their Rescue Releaf program, which supports local rescue organizations across the country by donating their CBD-infused Edibites. Your purchase will help rescue and foster dogs have an easier and less stressful transition as they adjust to new homes. In less than a year, they donated more than $250,000 worth of products to over 150 organizations!
If you know of an awesome rescue organization that could benefit from a donation, you can nominate them by filling out a simple form on the Pet Releaf website.
2