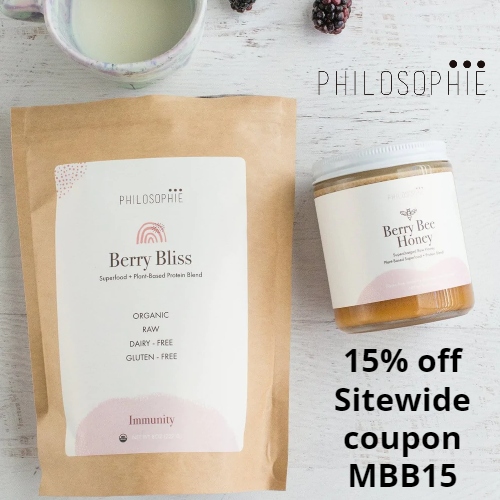 Founded by certified raw food chef, Sophie Jagge, Philosophie offers Superfood Blends, Superfood Infusions, and Reset Programs that are designed to nourish the body with whole, live, nutrient-rich foods.
When the body receives optimal nourishment from wholesome, plant-based sources of protein, vitamins, and minerals, it naturally detoxifies, leaving you feeling renewed and vibrantly healthy. Philosophie gives you all the tools you need get there.
Their Superfood Blends, Superfood Blends are organic, raw, gluten-free, and contain absolutely no filler ingredients. They can be added to pretty much any food, making it easy to enrich your meals with the health benefits of some of the world's most potent superfoods. Superfood blends include a detoxifying Green Dream blend, beautifying Berry Bliss blend, energizing Cacao Magic blend, and Cosmic Elixir – Collagen + Adaptogenic Blend, which provides natural stress relief while supporting healthy skin, beauty, energy and mood.
Their Superfood Infusions include delicious Cocoa Bee Honey & Berry Bee Honey that help combat colds, allergies & stomach bugs, Hydrating Dream drink powder that blends dehydrated coconut water & their Green Dream Superfood + Protein Blend to boost hydration, provide sustained energy & replenish the body, Coconut Magic – a coconut butter that contains only healthy fats & fiber to keep you full, energized & focused, and their popular Sunshine Drops.
Sunshine Drops are a mint flavored drop that you can add to your water. Every 2oz bottle is packed with chlorophyll, the powerful molecule found in plants that give them their bright green color and captures sunlight for photosynthesis. Chlorophyll helps eliminate harmful bacteria from the body and studies have shown that it also boosts the immune system, promotes gut health, hydrates & nourishes the skin, and boosts energy.
Want to jumpstart your health with a superfood cleanse? Check out Philosophie's collection of e-book Reset Programs. They'll guide you every step of the way! Titles include 10 Day Refuel, 14 Day Rejuvenation, 1 Day Energizer, 5 Day Reset, Nourish, and more.
Get 15% off Sitewide at Philosophie using coupon MBB15. Shipping is Free on orders of $75 or more.
2