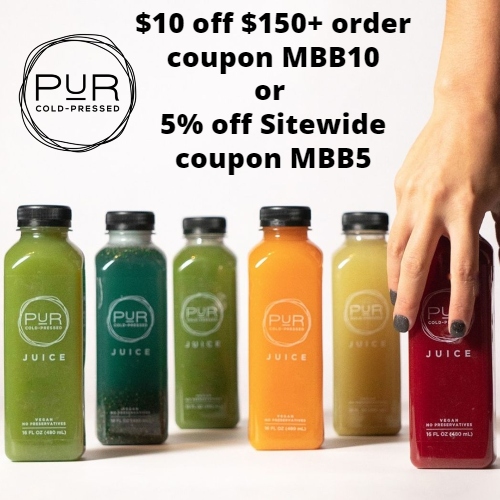 PUR Cold Pressed delivers hand-crafted cold pressed juices & protein packed almond milk drinks straight to your door. They specialize in juice cleanse & detox programs and wellness elixir juice shots.
Cold-pressing fruits and vegetables prevents them from oxidizing or degrading, which preserves 100% of their nutrients and live enzymes for up to 8 days! PUR Cold Pressed juices are made from only the best ingredients that are fresh, natural and locally sourced whenever possible, and they are cold pressed within an hour of gathering the ingredients to give you the freshest, most delicious & nutritious juice possible.
Their almond milk Mylks are a perfect meal replacement. They are blended with vegan protein and ingredients like coffee, vanilla, and cinnamon to give you a satisfying treat with the added protein you need.
They also offer a range of cold pressed Wellness Elixir Juice Shots that are great for an on-the-go nutrient boost to supercharge your day. You can throw them in your purse or gym bag for natural energy when you need it or keep them in your desk at work to combat afternoon slumps.
You can buy their great tasting juices individually, choose one of their CUR Juice Packs that are specially curated for things like immunity, wellness & hangovers, or go with one of their simple 3-, 5-, or 7-day cleanses for weight loss, detox, and an overall healthier lifestyle.
Not sure which one to try first? Check out their Discovery Kits. The PUR Cold Pressed Juice Ultimate Discovery Kit gives you a sample of cold pressed juice, almond milk Mylks, lemonades, protein juices, and juice shots.
Get 5% off Sitewide at PUR Cold Pressed using coupon MBB5. Coupon is valid on one-time orders and will also apply to the first shipment on a subscription order. Shipping is Free on orders of $150 or more.
Spending $150-$200? You'll save more using coupon MBB10 (valid for $10 off orders of $150 or more).
All juices come with a 100% satisfaction guarantee. If you're not happy with your juice for any reason, PUR Cold Pressed will replace it with another flavor or give you a store credit.
1